New Report: States Must Do More to Protect Juvenile Records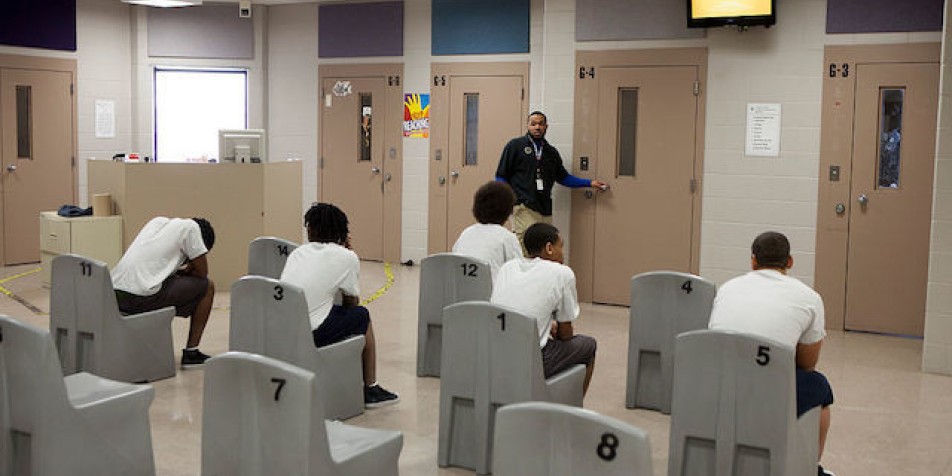 Children's rights group Juvenile Law Center today (July 15) launched a state-by-state analysis of juvenile records policies, as well as recommendations for how to better protect youth trapped in the justice system. The report, Failed Policies, Forfeited Futures: Revisiting a National Scorecard on Juvenile Records, updates a study the organization launched in 2014, which served as "the nation's first-ever, comprehensive evaluation of state juvenile record confidentiality and expungement laws against best practices for record protection," according to a statement from JLC. 
An executive summary of the 2020 study says "some reform" was found in certain states, but there are "still widespread deficiencies in the legal protections necessary to keep juvenile records secured." There are major problems with failing to keep juvenile records confidential and not allowing for those records to be expunged. This results in limited opportunities and lifelong harm against young people, the impact of which is "felt greatest by Black and Brown youth," according to the summary of the report. 
The summary states:
Today we know that access to juvenile record information has devastating collateral consequences for kids, leading to the denial of secondary education, housing, gainful employment, military service, and certain government benefits. Rather than doing more to keep such information closed to public scrutiny, however, states have found ways justify providing agencies and actors more access than ever before. Meanwhile with the aid of technology, interested parties can often find ways to identify whether and what a youth has in their record, a problem that clearly frustrates the purpose of rehabilitation. 

The impact of failing to protect juvenile records is devastating for Black and Brown youth. The summary continues:

While 95 percent of youth arrests are for nonviolent offenses, Black and Brown youth are 4.6 times more likely to be incarcerated for a nonviolent offense than White youth. This disparity not only reflects the systemic racism of a justice system that treats them with a presumption of dangerousness, but perpetuates that racism by stamping them by their sentencing record, with a presumption that would allow for the kind of discrimination our Constitution no longer permits for skin color alone. In fact, a 2003 study found that the effect of a criminal record is 40% greater for Black Americans than it is for White Americans. When states fail to protect juvenile records either by granting broad access or by making expungement and sealing costly and inaccessible, either by law or procedure, the disproportionate impact on Black and Brown youth compounds the systems of discrimination in our education, employment, and housing systems. 

The report's primary author, Juvenile Law Center Staff Attorney Andrew Keats, told Colorlines that there are unnecessary burdens placed on children of color who are caught up in the criminal justice system. "Because Black and Brown youth are disproportionately represented in the juvenile justice system, the collateral consequences of a juvenile record falls disproportionately on them," he said. "These consequences include problems securing housing, getting a college education, and entering the workforce, problems that racial discrimination alone already makes challenging enough."

Riya Saha Shah, Managing Director of Juvenile Law Center, added, "Moreover when records laws are difficult to navigate and expungement requires retention of an attorney or an exorbitant fee, it becomes inaccessible to many youth who have justice system involvement."

The updated study "measured each state's laws against a set of core principles for optimal record protection," according to the summary. 

The core principles are as follows:

Youths' law enforcement and court records are not widely available and are never available online 

Sealed records are completely closed to the general public

Expungement means that records are electronically deleted and physically destroyed 

At least one designated entity or individual is responsible for informing youth about the availability of sealing or expungement, eligibility criteria, and how the process works 

Records of any offense may be eligible for expungement 

Youth are eligible for expungement at the time their cases are closed 

There are no costs or fees associated with the expungement process 

The sealing and expunging of records are automatic—i.e., youth need not do anything to initiate the process and youth are notified when the process is completed 

If sealing or expungement is not automatic, the process for obtaining expungement includes youth-friendly forms and is simple enough for youth to complete without the assistance of an attorney 

If sealing or expungement requires a process, youth have access to a hearing and counsel to represent them at such hearing. 

Sanctions are imposed on individuals an agencies that unlawfully share confidential or expunged juvenile record information or fail to comply with expungement orders 

Juvenile delinquency adjudications [should] not be considered the same as criminal convictions as a matter of law, nor should they be used as evidence in any subsequent delinquency or criminal proceeding 

The public should never have access to juvenile courtrooms during a juvenile proceeding

The report's 2020 scorecard for juvenile records protection shows that California earned the overall high score with 70 percent. Arizona, on the other hand, landed on the bottom with a score of 24 percent. According to the report summary, Oregon showed the most improvement since 2014, with a score that "was below the national average at 43 percent and now is one of only seven states to receive 4 stars (at 60 percent)."

State scores for juvenile records confidentiality showed Rhode Island with the highest marks, with the only perfect 100 percent score and five stars. The summary adds, "Two states received 1 star with Idaho still at the bottom at 12 percent. With respect to sealing and expungement practices, California, Oregon and Oklahoma were at the top (70 percent, 68 percent, and 67 percent respectively) while Arizona, Utah and South Dakota were at the bottom (with 27 percent, 27 percent, and 25 percent respectively)."

When asked why state officials—especially the ones representing states with the lowest marks on the 2020 scorecard—push back against demands for changes to their juvenile records policies, Keats told Colorlines the problem goes back decades.

"The arguments against strictly protecting juvenile records are the same ones that led to these laws being changed over time to granting greater access to government agencies and the public," he said. "Myths like that of the child super predator that emerged in the 1980s and 1990s led to increased criminalization of youth, particularly Black and Brown youth.  The argument is that record access is necessary to protect the community and society, including by helping law enforcement in potential future criminal investigations."

However, Saha Shah added, "we know that retaining records of juvenile crime does not promote public safety. Research shows that increased collateral consequences, like limiting education, employment, and housing, actually leads to subsequent criminal justice system involvement," she said. "When records are protected and easily expunged, youth are able to secure future opportunities that they were otherwise excluded from."
Photo Credit: Melanie Stetson Freeman/The Christian Science Monitor via Getty Images