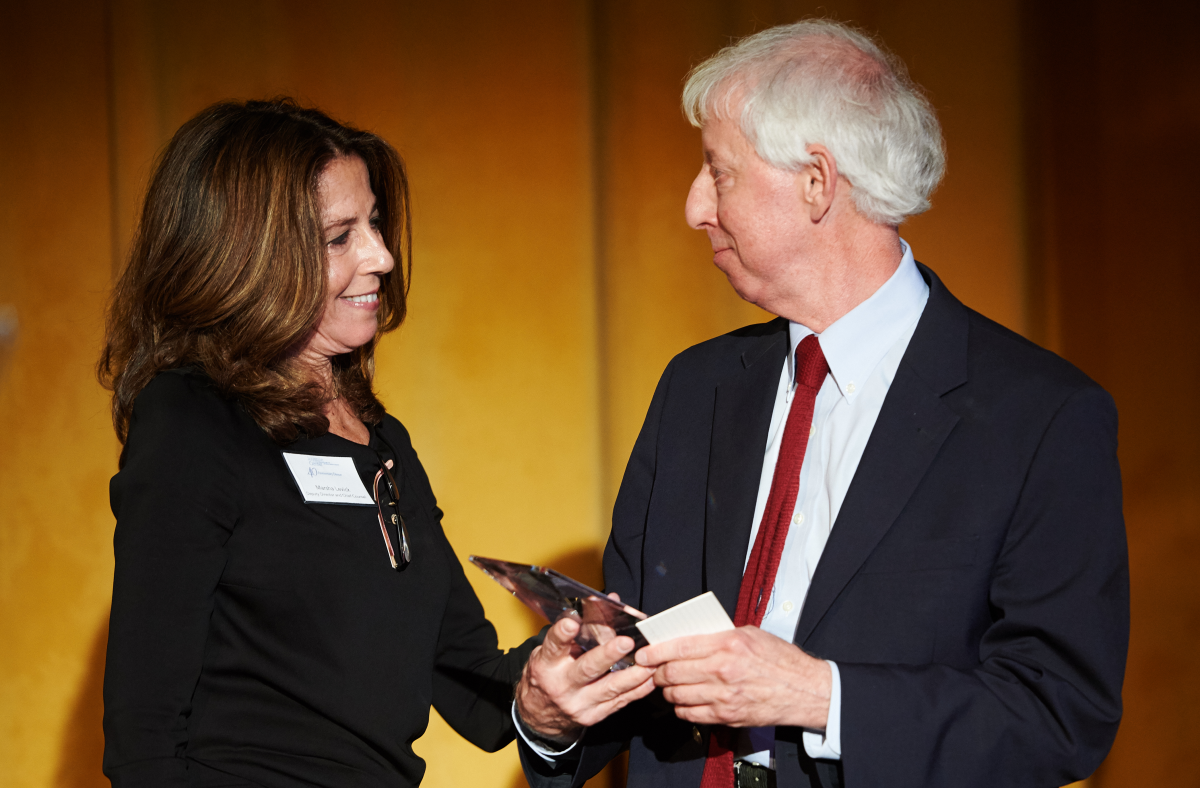 The Leadership Prize inaugural recipient, Juvenile Law Center co-founder Robert Schwartz, not only brought Juvenile Law Center to national and international prominence over the course of his 40 years of leadership, he also helped develop the nascent field of children's law, inspiring thousands of children's rights advocates working nationwide. 
In his career at Juvenile Law Center, Schwartz represented dependent and delinquent children in Pennsylvania juvenile and appellate courts; brought class-action litigation over institutional conditions and probation functions; testified in Congress before House and Senate committees; and spoke in over 30 states on matters related to children and the law.
Schwartz's career was not been limited to Pennsylvania, but included fighting nationally and internationally for youth's rights. Schwartz chaired the American Bar Association's Commission on Youth at Risk from 2011-2013. From 1992-98 and 2006-08, he was chair of the Juvenile Justice Committee of the American Bar Association's Criminal Justice Section. In 1993 he also co-authored the American Bar Association's report, America's Children at Risk; and in 1995 he helped author a follow-up report on youth's access to quality lawyers, A Call for Justice. In 1993 he visited South Africa to help develop a legal system for children, and was invited to China in 2010 to speak to judges and lawyers about sentencing of youth.
From 1996-2006, Schwartz was a member of the MacArthur Foundation Research Network on Adolescent Development and Juvenile Justice. As part of the Network, he co-edited Youth on Trial: A Developmental Perspective on Juvenile Justice (University of Chicago Press: 2000). Schwartz in 2005 became chair of the Advisory Committee to the Children's Rights Division of Human Rights Watch. From 2003-2012, Schwartz chaired the Board of the Philadelphia Youth Network.
Schwartz has been the recipient of numerous awards, including the Mark Hardin Award from the ABA Center on Children and the Law; Andrew Hamilton Award, presented by the Philadelphia Bar Association "for exemplary service in the public interest"; the Reginald Heber Smith Award, presented by the National Legal Aid and Defender Association; the Livingston Hall Award, presented by the American Bar Association; the Stephen M. Cahn Award, presented by the National Association of Counsel for Children for career achievement; and the Haverford Award for service to humanity. Schwartz is a graduate of Temple University School of Law and of Haverford College, which in 2011 also awarded him an honorary degree.