Juvenile Law Center Appoints Four New Members to Board of Directors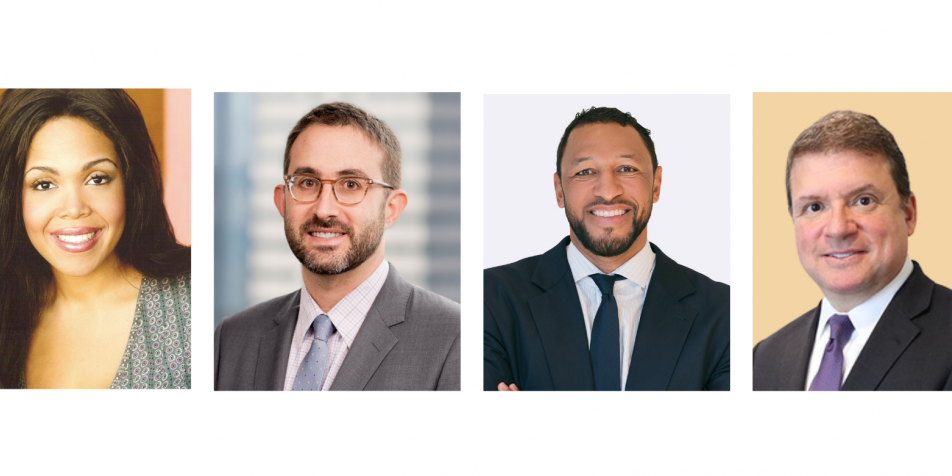 National children's rights public interest law firm appoints Khaliah Ali, Daniel Okonkwo, Robert Parker and Eli Segal
Philadelphia, PA (September 24, 2020): Juvenile Law Center, the nation's first nonprofit public interest law firm for children's rights, is announcing the appointment of four new members to its Board of Directors. These individuals – Khaliah Ali, Daniel Okonkwo, Robert Parker, and Eli Segal – will join the governing body of the national organization, which is based in Philadelphia.
Khaliah Ali is a fashion designer, author and humanitarian who connected with Juvenile Law Center after reading about the crisis in abuse of children at Glen Mills Schools in Delaware County, PA where she lives. She got involved and began speaking and writing in support of the organization's fight for children in juvenile facilities. Her father is boxing legend and social justice activist Muhammad Ali.
"I am so honored to serve on Juvenile Law Center's board," said Ali. "Additionally as the daughter of the late boxer Muhammad Ali, I am honored to help curate my father's legacy through such a laudable cause."
R. Daniel Okonkwo, Esq. is an attorney and public policy expert with significant experience in the policy, advocacy, and nonprofit sectors. Okonkwo currently serves as a Vice President (Relationship Manager) in the Office of Nonprofit Engagement at JPMorgan Chase & Co. In this role he is responsible for building relationships with key stakeholders and grantmaking in the Mid-Atlantic region. Daniel also manages a national grant portfolio, which focuses on nonprofit capacity building and civil rights organizations.
"I am thrilled and honored to join Juvenile Law Center's Board of Directors," said Okonkwo. "The organization has been at the forefront of the work to ensure that young people are protected from unjust treatment in the various systems that impact their lives. Juvenile Law Center is an organization that I have admired for a long time and I look forward to supporting their work on behalf of young people across the country."
Robert P. Parker joined Rothwell Figg, a D.C.-based technology/litigation focused law firm, in 2013, following 14 years as a partner in the Litigation Department of Paul, Weiss. His practice centers on complex civil matters involving technology, regulatory, and commercial issues. Along with representing some of the world's most established companies, Parker represents start-up enterprises in a variety of commercial and litigation matters. He is ranked among Washington, DC's Super Lawyers in the area of IP litigation. His prior board involvement includes National Council for Adoption Past Chair.   
"Too often, children and teens become lost in the juvenile justice system – civil and criminal. The impact on their lives, their families, and society at large is beyond calculation.  I am delighted to join Juvenile Law Center's efforts to ensure that no more juveniles get lost in our courts or in their placements."
Eli Segal is a partner at the law firm of Troutman Pepper, where his practice focuses on representing journalists in First Amendment matters; colleges and universities in the unique legal issues that they encounter; and other businesses and individuals in the full gamut of commercial litigation.  He is co-chair of Troutman Pepper's First Amendment and Newsroom practice group.
"I volunteered at Juvenile Law Center years ago during college and law school and am thrilled to have the opportunity to contribute again to the organization's vitally important work," said Segal.
Juvenile Law Center is proud to welcome these distinguished individuals to its Board of Directors.
"Our Board of Directors is an integral part of Juvenile Law Center and it is a joy and privilege to work with them," said Sue Mangold, Juvenile Law Center Chief Executive Officer. "We are thrilled to welcome Khaliah Ali, Daniel Okonkwo, Robert Parker and Eli Segal. Each is already engaged in our work and brings valuable expertise and experience to our board."