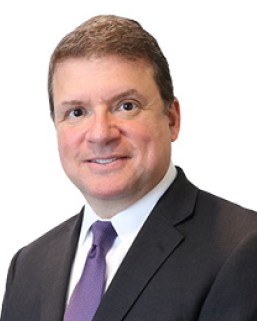 Robert P. Parker joined Rothwell Figg, a D.C.-based technology/litigation focused law firm, in 2013, following 14 years as a partner in the Litigation Department of Paul, Weiss. His practice centers on complex civil matters involving technology, regulatory, and commercial issues. Along with representing some of the world's most established companies, Parker represents start-up enterprises in a variety of commercial and litigation matters. He is ranked among Washington, DC's Super Lawyers in the area of IP litigation. He has also led large corporate internal investigations involving the National Association of Securities Dealers and The Nasdaq Stock Market, Boeing, Fannie Mae, and Xerox.
Parker received his B.A. degree with university and departmental honors from Johns Hopkins University in 1981. He spent his senior year as an undergraduate studying at Johns Hopkins' School of Advanced International Studies and working in the International Affairs Division of the National Aeronautics and Space Administration. He graduated from the University of Pennsylvania Law School with honors in 1984. He clerked for Circuit Judge Oscar H. Davis of the United States Court of Appeals for the Federal Circuit, and served as counsel to the Chairman of the U.S. International Trade Commission soon after.
In addition to his role on the Board of Juvenile Law Center, he has served on the boards of several other charitable organizations, including the National Council For Adoption (NCFA), which he also served as chairman from 2003-05, helping to manage the organization's transition following the death of its founder. He is currently an adviser to the Committee of Concerned Scientists, an organization formed by prominent leaders in the U.S. scientific and academic communities to advocate on behalf of persecuted colleagues around the world.
Parker has taught as an adjunct lecturer at Johns Hopkins University, George Washington University Law School, and George Mason University Law School. He is currently a visiting faculty member at Baylor Law School.