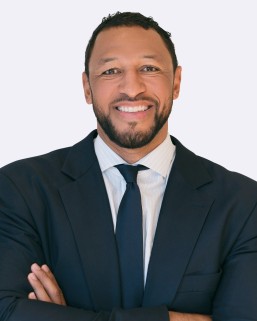 R. Daniel Okonkwo, Esq. is an attorney and public policy expert with significant experience in the policy, advocacy and nonprofit sectors. Okonkwo currently serves as the East East Region Executive, Global Philanthropy with the JP Morgan Chase Foundation. In this role he oversees the JPMC Foundation philanthropy and strategy for the organization's East Region and supervises a team of Program Officers.
Okonkwo comes to JPMorgan Chase from Ballast Research where he advised Fortune 500 companies on their federal and state advocacy. Prior to Ballast Research, Okonkwo was a founding member and the Executive Director of D.C. Lawyers for Youth (DCLY), a policy and advocacy organization that worked to reform the District's youth justice system. While working to start DCLY, Okonkwo was a Senior Consultant in the Regulatory Practice Group at the EOP Group, Inc., a lobbying and political consulting firm. He started his career as a trial attorney in the Office of the Public Defender in Miami, FL where he represented clients in the County Court Division and Felony Drug Court. Prior to entering law school, Okonkwo had an accomplished career as a professional basketball player.
Okonkwo has extensive ties to local and national nonprofit networks and municipal leaders. He has served as an appointee to the District's Juvenile Justice Advisory Group, the Safer Stronger DC Advisory Committee, the Non-Profit Advisory Committee, and most recently, the Commission on Health Equity. Okonkwo also values supporting local nonprofits and has been a board member of the DC Alliance of Youth Advocates, Advocates for Justice in Education, the WAMU (88.5FM) Community Council, and the National Juvenile Justice Network.
Okonkwo received his J.D. from Georgetown University and a B.A. from Yale University