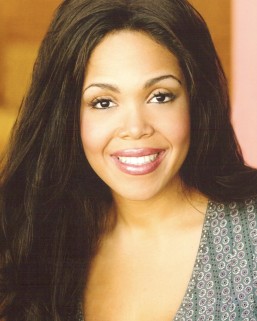 Khaliah Ali has been at the forefront of affordable clothing for women of all sizes, and a former Ford Plus Size model. She has been all sizes ranging from size 8 to size 24, as is discussed in her book, "Fighting Weight," now in its third printing, and published in hardback by Harper Collins.
Khaliah Ali sewing patterns have been featured with both Simplicity and now McCall, Vogue, and Butterick. Her brand remains the top-selling pattern for its segment. Ali's ready to wear apparel collection has been available at Home Shopping Network, QVC Europe, and Shop NBC, now known as EVINE, for over two decades.
Television appearances include multiple visits to the Today Show, Good Morning America, CNN, MSNBC, BBC, Fox and Friends, and numerous local affiliates. On radio she has appeared on the Doctor Oz show, Whoopi in the Morning, and on CBS and NPR national radio. Ali received the Pennsylvania Broadcasters award and an Emmy nomination for her work as the host of UPN's "Education is Paramount campaign," a children's television show.
In print she has been featured in People, Self, Time, and a fashion editorial in Oprah magazine. She published editorials the New York Times, Huffington Post, and USA Today. As a public speaker, Ali is a member of the HarperCollins speakers bureau. Additional published writing credits include being the Editor in Chief of WLS Lifestyles Magazine, a Conde' Nast contributing editor, and a Huffington Post contributor.
Her humanitarian efforts include serving on the board of the World Food Program, Project Sunshine, We Are Family, and Help USA. She is the American ambassador for Steve Erwin's "Wildlife Warriors" and was the International Spokesperson for the National Center for Missing and Exploited children. Amongst her humanitarian efforts is her trip to the Congo with her son where they visited schools and hospitals during the thirty fifth anniversary of her father's legendary "Rumble in the Jungle." This marked the first Ali visit since the bout. It has resulted in the building of a girls' school through the Georges Malaika foundation, as well as aide and supplies through an unprecedented donation from the Global Clinton foundation to hospitals in the devastated region. Ali is the recipient of the National Congressional Award for public service. She's also an advocate of animal rights, and a practicing vegan. Additionally, she is outspoken about the mining of earth diamonds. Ali resides with her husband Spencer Wertheimer and their son, Jacob.