2020 Leadership Prize Winner, Sherry Lachman, on a Personal Connection to Child Welfare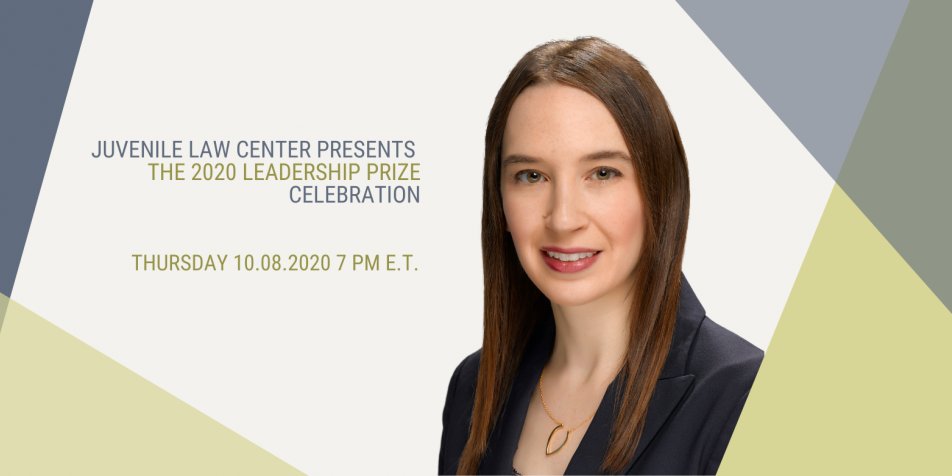 Over the past 14 years, I have worked to improve government systems for vulnerable children and families. This work is personal to me because I spent part of my childhood in foster care. I know what it's like to be a small, defenseless child on the other end of a giant, dysfunctional government system.
In fourth grade, I had a wonderful English teacher, Ms. Owen, who helped me view my rocky childhood through a new lens. She told me that I could someday use my trauma to create change for other vulnerable children. I went from feeling like a powerless victim to feeling empowered to use my experiences to make a difference for other kids. Her words motivated me to study hard in school, obtain a higher education, and pursue a career in child advocacy and entrepreneurship.
Lessons from the Zubrow Fellowship
After law school, I started my career as a Zubrow Fellow at Juvenile Law Center, a two-year fellowship in children's law for recent law school graduates. My colleagues at Juvenile Law Center taught me how to be an effective advocate for children.
They taught me the importance of centering the voices of children and families in our work. They sent me out to volunteer with coalitions of older youth in foster care advocating for child welfare reform, both to support their efforts and to tether my policy work back at the office to their experiences and insights.
They also taught me that systems change is a team sport. My Juvenile Law Center colleagues and I worked just as closely with our partners at the American Bar Association, Education Law Center and Children's Defense Fund as we did with each other. When you watch the Center's work up close, the line blurs between where Juvenile Law Center ends and where its partner organizations begin.
Building the Next Generation of Child Welfare Leaders
My experiences at Juvenile Law Center over a decade ago have shaped everything I have done in my career since. After leaving Juvenile Law Center, I went to work for the federal government, first as a Senate staffer and later as an advisor in the Department of Education and the Obama White House. In these roles, I continued to draw on the lessons I learned at the Center to serve as an advocate for children on the inside of government systems.
After leaving the federal government, I started a child welfare reform organization called Foster America with Marie Zemler Wu. Launching Foster America was my way of paying the Zubrow Fellowship forward. Like Juvenile Law Center's Zubrow Fellowship, we are working to help build the next generation of leaders for our field.
We recruit diverse talented professionals for our fellowship with skills in technology, data analytics, human-centered design, strategy and finance—skills that are needed to help our country address its most persistent child welfare challenges in new ways. We place our fellows in leadership roles for 18 months in government agencies across the country that serve children and families. Half of our fellows work on reforms designed to strengthen families and safely prevent children from entering foster care, while the other half work on projects designed to improve foster care. In the long term, we aim to scale the innovations our fellows develop and build a pipeline of transformative leaders for our field by helping our alums move on to higher levels of child welfare leadership.
Our fellows are joining our field at a time when there is an unprecedented opportunity to change our country's approach to child welfare—to create one that is far more racially just, prevention oriented, and responsive to the needs voiced by children and families. The work ahead will not be easy, so it is inspiring to see how many talented professionals want to join our fellowship at this time. While they are full of passion, just as I was when I joined Juvenile Law Center, they will need the help of all of us in the child welfare reform community, just as I did, to harness their passion and point it in the right direction.
Join us October 8th when we honor Sherry as our 2020 Leadership Prize Winner.