Ombudsperson Resolution Hearing: Support & Awareness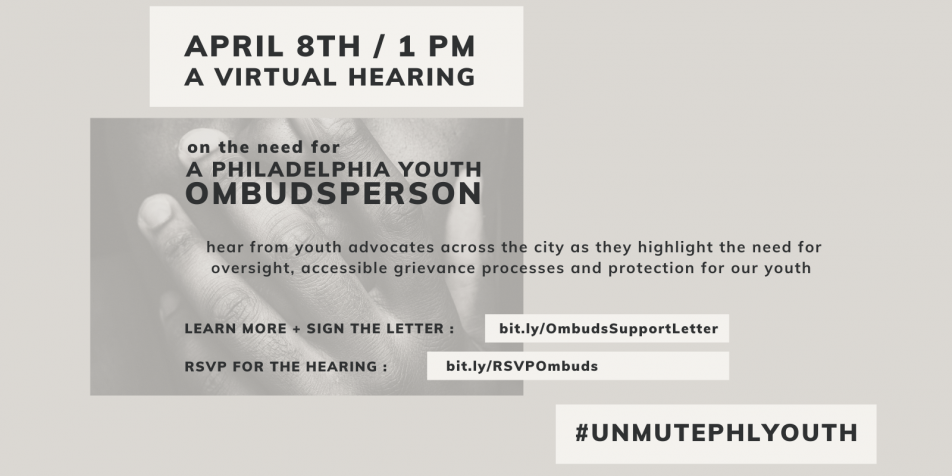 An "Ombudsperson" can be defined as someone who acts on behalf of another as a "protector against oppressive
measures by the government." Today, "ombudsperson" has taken on a broader 'public watchdog' or 'citizen
defender' meaning. An ombudsperson plays a vital role in bringing abuses and rights violations occurring daily in
these facilities to the public's attention. Many ombudsperson offices investigate, report on data and findings, while
also making system-wide policy recommendations.
Abuse is a condition of institutions. A 2011 report found clear documented evidence of systemic abuse of youth in institutional placements throughout the United States.  An update 4 years later, found evidence of systemic maltreatment in an additional 14 states, including Pennsylvania. Our Philadelphia youth endure systemic abuse and mistreatment and feel they have no place to report the abuse they endure. Pennsylvania permits facilities, such as Glen Mills, a facility where youth experienced violence on a daily basis, to develop, monitor and implement their own grievance procedures. This effectively silences and invalidates youth and family reports of horrific conditions, abuse and other rights violations. The state has done an ineffective job at hearing, seeing and protecting our youth. The alternative reporting avenues, Child Line and CARO have been proven similarly ineffective. The scope of the ombudsperson office, similar to the Philadelphia residential task force, would cover youth in facilities whether through dependency, delinquency or disability (DBHIDS). 
Prior to David Hess' (17) horrific murder at Wordsworth Academy  in 2018, police were summoned to Woodsworth 800 times. His murder, along with investigative journalism brought public attention. The Defender Association of Philadelphia's tireless advocacy and powerful reports such as Juvenile Law Center and Juveniles for Justice's, Broken Bridges as well as Education Law Center and Children's Rights, Unsafe and Uneducated, sparked action. The Children and Youth Committee held a hearing on May 17, 2018 on the experiences of Philadelphia youth in placement facilities. The incredible testimony of youth and other advocates resulted in City Council establishing a task force with the various city stakeholders, to recommend ways to keep our Philadelphia youth safe. The final report unanimously recommends an independent youth ombudsperson. Simultaneously, feeling left-out of the task force, youth held a visioning session, where they shared their stories and recommendations in small groups. One of many critical recommendations was the need for an independent youth ombudsperson.  
On April 8, at 1 pm there will be a virtual hearing on the need for a Philadelphia independent youth
ombudsperson. Youth Advocates from Juvenile Law Center's Youth Advocacy Programs: Juveniles for Justice and Youth Fostering Change will testify on the need for Philadelphia to better protect youth in group placements. We will be posting youth testimony on our blog. Please take the time, to read their testimonies, hear their storied and try to understand the gravity of the need we are fighting for. 
Follow us on Twitter, Instagram and Facebook to learn more and to share our content with your communities.
You can Sign a Support Letter Here. 
You can RSVP to Attend the Hearing Here.