Cathy Moffa, MSS, MLSP
She/Her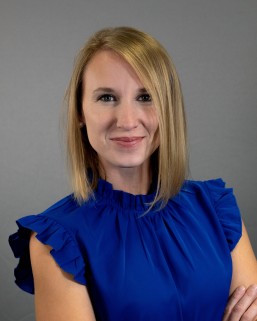 Cathy Moffa joined Juvenile Law Center's staff in July 2013, after previously interning with the Youth Advocacy Program while finishing her master's in social work and law and social policy. For over a decade, Cathy has been diligently working to transform youth-led advocacy efforts through thoughtful programmatic planning and development. As Youth Advocacy Program Senior Manager, Cathy oversees the Youth Advocacy Programming including the Advocates Transforming Youth Systems, Advocates for Youth Justice, and the Youth Speakers Bureau groups at Juvenile Law Center and manages national requests for assistance on program development, and program replication.   
Cathy is passionate about experience-led advocacy efforts that are trauma-informed and place those most impacted by systems at the forefront of system-transformation. Most notably, Cathy published a tool in 2021 titled Building the Field of Ethical, Authentic, and Youth-led Advocacy: Key Components of a Youth Advocacy Program outlining guiding principles supported by research, active protocols and processes used by Juvenile Law Center's Youth Advocacy Program, and reflections provided by program members to support those who work with youth and youth themselves engage in experience-led advocacy. 
Cathy graduated with dual Master's degrees in Social Service and Law and Social Policy from Bryn Mawr College's Graduate School of Social Work and Social Research. She received her undergraduate degree in Sociology from Saint Joseph's University. Prior to her work at Juvenile Law Center, she worked for Bryn Mawr College's Civic Engagement Office as the Partnership Liaison and Praxis Placement Coordinator.  
Photo Credit - John Arroyo of Photography Without Borders