Meet Our 2023 Leadership Prize Winners: Dr. Amanda Alexander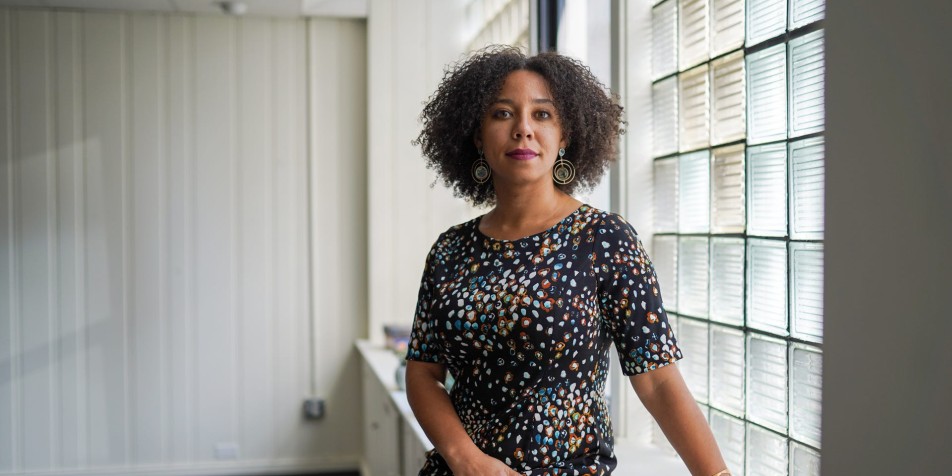 Dr. Amanda Alexander is the founding Executive Director of the Detroit Justice Center and is currently a Senior Research Scholar at the University of Michigan Law School. Holding both a PhD in International History from Columbia University and a JD from Yale Law School, Dr. Alexander is committed to ending mass incarceration. If you or a loved one have never been exposed to the trauma of incarceration, it can be hard to conceptualize the myriad impacts that this tragic and deeply harmful practice has on a family and community. For Dr. Alexander, this is not a thought experiment or case study; this is a reality that has been woven into the tapestry of her life. As a young child, Dr. Alexander's father was incarcerated. This experience would plant a seed that would later grow to galvanize her towards a life devoted to community care and abolition.
Dr. Alexander has worked at the intersection of advocacy and law for over 20 years. Beginning her career at Harvard College pursuing a bachelor's degree in government and African Studies, Dr. Alexander helped found the Student Global AIDS Campaign and worked on the editorial staff of Transition Magazine and the Harvard African. During her time at Harvard College, Dr. Alexander was mentored by ACT UP organizers from New York and Philadelphia from whom she learned that "social change comes about because people who are impacted by a problem force that change to happen."
As an undergraduate, she also worked on youth programming and advocacy with Africa Action, the Senegalese National Youth Council, and the Malawi AIDS Counseling and Resource Organization. She conducted research in the Africa Divisions of Human Rights Watch and the Harvard Center for International Development. After completing her honors thesis, "'Not the Democracy We Struggled For': The Landless People's Movement and the Politicization of Urban-Rural Division in South Africa," Dr. Alexander moved to South Africa in 2004, working to support democracy and people's rights. Throughout her time in South Africa, Dr. Alexander served as a Research Fellow and Editor for the University of KwaZulu-Natal's Centre for Civil Society in Durban.
Dr. Alexander's collected experiences would drive her to pursue a PhD in International History, seeking to bridge the gap between today's problems and the historical context in which they were created. Remaining committed to social change, she volunteered at the Center for Law and Social Justice at Medgar Evers College and worked on WBAI Radio's Wake Up Call.
During the fourth year of her PhD studies, Dr. Alexander applied to Yale Law School. During her second semester in law school, she enrolled in a Detention and Human Rights Clinic, where she worked with clients who had been forced to endure solitary confinement in the supermax prison in Connecticut. As part of one of the research projects she worked on for the clinic, Dr. Alexander conducted interviews for a book about women's experiences of incarceration.
It was through these interviews that Dr. Alexander and her clinic partners identified that many of the women had a common narrative thread. Each of these women either witnessed or experienced family separation trauma. Many of their children were taken into foster care and some had even had their parental rights terminated permanently because of their incarceration. This inspired Dr. Alexander and her fellow law students to launch the Women, Incarceration, and Family Law Project at Yale. For the next two and a half years, Dr. Alexander conducted research into the Adoption and Safe Families Act that incentivized states to move to terminate the rights of parents who were going to be incarcerated for two or more years. She co-wrote a family law handbook for parents in Connecticut jails and prisons to help them understand their rights and maintain relationships with their children.
In 2013 Dr. Alexander returned home to Michigan to launch the Prison and Family Justice Project at the University of Michigan Law School as a 2013-2015 Soros Justice Fellow. Through the project, she represented incarcerated parents at risk of losing their children and worked with families who were at risk of being separated due to some level of contact with the court system in Detroit. After five years of connecting with community members, providing legal support, and continuing to do critical research, Dr. Alexander founded the Detroit Justice Center where they work "alongside communities to create economic opportunities, transform the justice system, and promote equitable and just cities."
Dr. Alexander's writing has been published in The Globe & Mail, Michigan Journal of Race & Law, Harvard Journal of African-American Public Policy, Michigan Child Welfare Law Journal, Journal of Asian and African Studies, Review of African Political Economy, The Boston Globe, and other publications. She is a 2017 Echoing Green Fellow and 2018 Law for Black Lives Legal Innovator Fellow. Dr. Alexander facilitated the Inside-Out Theory Group at Macomb Prison near Detroit for many years and drove a successful effort to establish an Inside-Out Prison Exchange program at UM-Ann Arbor and local prisons. She has served as an adviser to the National Resource Center on Children and Families of the Incarcerated and on the national steering committee of Law for Black Lives, and is a board member of the Center for Constitutional Rights.
Juvenile Law Center invites you to celebrate Dr. Amanda Alexander and her work along with fellow 2023 Leadership Prize recipients Xavier McElrath-Bey and Peter Leone on Wednesday, May 10th at the National Constitution Center. You can register for the event here.
Recipients of the Juvenile Law Center Leadership Prize are leading lights whose inspirational careers are beacons for future generations and whose work has substantially improved the lives of youth. Read more about our 2023 award recipients.