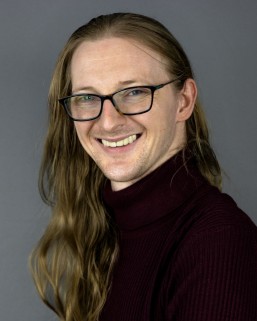 Jay Kimberley comes to Juvenile Law Center with almost ten years of lived experience in the foster care system. As a ward of the state, Jay saw first-hand the impact that the System can have on a child's life. Their personal mission in life is to help drive a paradigm shift in the way we as a nation consider comprehensive care for system-impacted youth. Jay has served as a personal mentor for youth aging out of the system, and has been a keynote speaker at a number of "Aging Out" events. Most recently Jay presented their paper, "Trauma, Theatre, and the Power of Community: Re-Imagining Therapeutic Intervention for Foster Youth," and received the Emerging Scholars Award from the American Theatre and Dance Society as part of the Association for Theatre in Higher Education 2021 Conference. Jay was also a keynote panelist for the University of Maryland's School for Social Work's 2020 conference,"The New Normal: LGBTQ+ Youth Living Through COVID-19."
Jay brings a myriad of experiences in the entertainment, non-profit, and workforce development industries. From drafting and building scenic elements to, facilitating online job-readiness workshops, and launching online fundraising events, they have developed several modalities of effective communication. Jay holds a Masters in Theatre Arts and a certificate in Nonprofit Management from Villanova University, and is an actor and spoken word artist when they aren't learning a new skill.
Outside of Juvenile Law Center, Jay works throughout the city as an actor and videographer. Most recently, you may have seen them portraying the historic role of Sergeant Joseph Plumb Martin at the Museum of the American Revolution. When Jay is not onstage or making TikTok videos educating people about the foster care system in America, you can find them behind the camera. Jay was the Director of Photography and Editing for Manayunk Theatre Company's 2020 Fringe production, BlueBeard, and has also worked on creative projects with area students, such as the cast of Antigone at Abington Friends School in 2021. Above all else, Jay loves spending time with their partner and their three adventurous cats.