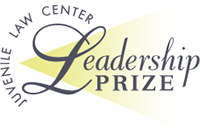 Juvenile Law Center's Leadership Prize recognizes outstanding individuals working in any field—law, government, the arts, media, entertainment, sports, business, or any other sector—who are fighting for the rights and well-being of youth in the child welfare and justice systems.
Recipients of the Leadership Prize are leading lights whose inspirational careers are beacons for future generations and whose work has substantially improved the lives of youth. Awardees have achieved lasting change either through a lifetime of work on behalf of youth, a landmark contribution to the field of children's rights, or exceptional efforts to shine a light on the most important issues affecting youth today. The Prize carries an honorarium of $5,000.
Online registration for the May 1 celebration will be accessible soon.  We are currently accepting sponsorship's and taking tribute book orders at this time. Call Rosie McNamara-Jones at (215) 625-0551 x118  or email rmcnamara-jones@jlc.org to inquire.  See you May 1 at the National Constitution Center!