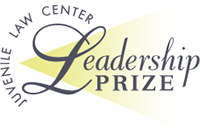 Juvenile Law Center's Leadership Prize recognizes outstanding individuals working in any field—law, government, the arts, media, entertainment, sports, business, or any other sector—who are fighting for the rights and well-being of youth in the child welfare and justice systems.
Recipients of the Leadership Prize are leading lights whose inspirational careers are beacons for future generations and whose work has substantially improved the lives of youth. Awardees have achieved lasting change either through a lifetime of work on behalf of youth, a landmark contribution to the field of children's rights, or exceptional efforts to shine a light on the most important issues affecting youth today. The Prize carries an honorarium of $5,000.
NOMINATIONS FOR OUR 2022 LEADERSHIP PRIZE WILL OPEN IN JANUARY 2022.
History
Juvenile Law Center's annual Leadership Prize was first awarded in 2015 to recognize individuals working to reform the child welfare and justice systems. The inaugural recipient, Juvenile Law Center Co-Founder Robert Schwartz, not only brought Juvenile Law Center to national and international prominence over the course of his 40 years of leadership, he also helped develop the nascent field of children's law, inspiring thousands of children's rights advocates working nationwide. Today, Juvenile Law Center is recognized both nationally and internationally for its expertise as a trailblazer in the field of children's rights law.
Leadership Prize winners include attorneys, national and international children's rights advocates, members of the judiciary and the media. See past winners here.
Sponsor
Help build and sustain the field of child advocacy with Juvenile Law Center for years to come. Your generous support is more important now than ever, as we respond to new challenges and threats to many hard-won reforms for youth. Recognizing and honoring the trailblazers among us is critical to creating and sustaining a better world for our youth.
Sponsor levels start at $1,500 and go up to $100,000. Sponsorship gifts of $10,000 and above may be fulfilled across multiple years.
BECOME A LEGACY SPONSOR IN 2022!
Download this form or call or email Rosie McNamara-Jones at (215) 625-0551 ext. 118 or rmcnamara-jones@jlc.org to set up a sponsorship.