Youth Fostering Change Advocacy Project Uplifts Youth Voice in Court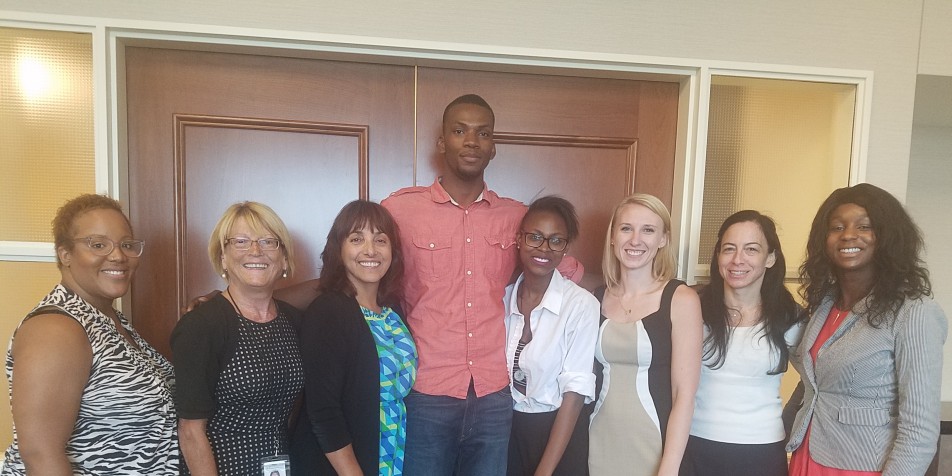 Above: Youth Fostering Change advocates, Anthony and Selena met with Sandra Moore and Stephenie Strayer from the Office of Children and Families in the Courts. Left to right: Marcia Hopkins, Youth Advocacy Program Manager; Stephenie Strayer, Judicial Program Analyst; Sandra Moore, Director; Anthony, youth advocate; Selena, youth advocate; Cathy Moffa, Youth Advocacy Program Manager; Jennifer Pokempner, Director of Child Welfare Policy; Dominique Mikell, Stoneliegh Fellow.
---
Each year our youth advocates in Youth Fostering Change and Juveniles for Justice do amazing work focused on one reform issue, and this year was no different. We're so excited to share this video featuring YFC's final project and policy recommendations to empower youth in dependency court hearings.
IDENTIFYING THE PROBLEM: YOUTH EXPERIENCES IN COURT
At the start of their project, Youth Fostering Change advocates discussed how not attending or participating in their own hearings caused major disruptions in their housing and education. Youth advocates reflected on how confusing and intimidating court hearings were, in the rare event they were actually encouraged to go. In fact, youth were shocked to learn that Pennsylvania State Law requires court attendance for all youth in foster care. Youth advocates agreed that there were too many things keeping young people from attending and fully participating in court. So, Youth Fostering Change decided to do something about it.
YFC advocates spent the past year talking to other young people about their experience in Philadelphia dependency court and meeting with city and state officials to get a bigger picture of the court process and individual roles within that process. Advocates also strategized with city and state officials to encourage stakeholders to support YFC's campaign to empower youth in court hearings.
Youth advocates created three project goals to empower youth in court:
Increase youth attendance in court and promote meaningful participation of youth in their hearings by having youth speak first in court and by creating multiple avenues for youth to participate.
Inform service providers, judges, and attorneys of the positive effects of having youth participate in court.
Gather information from youth about their court experiences and barriers to attendance, and develop action steps to address them.
CREATING THE SOLUTION: TOOLS FOR YOUTH
By May, Youth Fostering Change created a court preparation form for youth and their legal team to complete together before hearings. The form is designed to prep youth for court and amplify their voice during hearings. YFC also developed a youth empowerment card with "know your rights in court" information and tips to help youth improve their experience during hearings.
Based on their conversations with other young people and state and local officials, YFC articulated a list of policy reform recommendations to make it easier for youth to show up and participate in court. Youth Fostering Change also partners with PhillyCAM on a video about their project, including their recommendations and tools for youth.
Youth Fostering Change presented their tools and recommendations to the Defender Association of Philadelphia, the Support Center for Child Advocates, the Philadelphia Department of Human Services, Pennsylvania's Office of Children and Families in the Courts, and Philadelphia Family Court judges.
YOUTH LEADERSHIP AND ADVOCACY MATTERS
Their work isn't over yet. Youth Fostering Change will continue to shine a spotlight on the importance of youth participating in court. The youth advocates are exploring ways to implement their recommendations in Philadelphia and across the state. As lawyers dedicated to protecting children's rights, we can't stress the importance of YFC's advocacy and reform work this year. Implementing their recommendations means that more youth in foster care will be able to participate in decision-making processes that affect their lives and futures.
Youth-led advocacy projects like this one are important because young people who have experienced the system are in a unique position to actually change it. Juvenile Law Center believes in the power of youth voice and affirms young people's ability to turn their lived experiences into positive systemic reform. That's why we've run two youth advocacy programs for the past decade. These programs are critical to Juvenile Law Center's work – meaningful change just isn't possible without engaging young people and communities who understand these systems and their impact.
Learn more about Youth Fostering Change and Juveniles for Justice >>
Your support means our youth advocates can keep pushing policymakers to make real changes in the child welfare and juvenile justice system. Please donate today to support our youth advocates!