Youth Empowerment Card: Youth Rights in PA Courts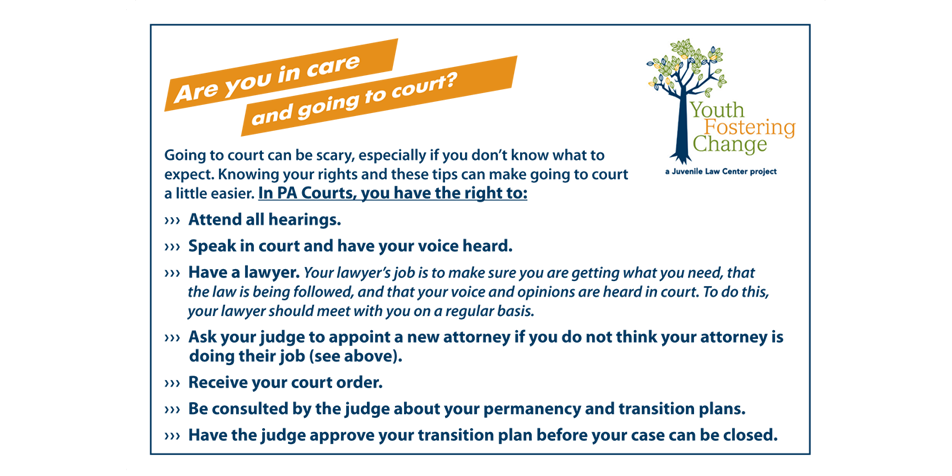 Youth Fostering Change offers youth who are currently or formerly involved in the child welfare system the opportunity to evaluate the system and implement a campaign for reform. Each year, Youth Fostering Change youth advocates select a reform issue, develop a strategy to address it, and implement their project by bringing it to local, state, or federal stakeholders. Juvenile Law Center supports youth advocates along the way by providing essential support and helping advocates build skills for success.
This year, Youth Fostering Change focused on empowering youth in dependency court, specifically by removing barriers attendance and active participation. Pennsylvania law requires all youth in foster care to attend regular court hearings, but youth advocates had very different experiences in court. They were not encouraged to attend their hearings, and when they did attend, the process was very confusing and intimidating. As a result, major decisions were made about young people's lives without either their presence or input.
YFC advocates established three project goals to address this issue:
Increase court attendance and meaningfully engage youth in court by having youth speak first during hearings and creating multiple avenues for youth to participate.
Inform service providers, judges, and attorneys of the positive effects of having youth participate in court.
Gather information from youth about their court experiences and barriers to attendance and develop action steps to address them.
Youth Fostering Change created three core project components to achieve these goals:
1. The Youth Fostering Change Court Prep Form gives youth the opportunity to voice their opinions, thoughts, and concerns both verbally and on paper. This form is helpful for all youth because it helps them to formulate and gather their thoughts before court. It also allows them to feel like they are active in their case plans.
The Youth Empowerment Card would ideally be available in family court and would be distributed at places youth in foster care frequent, such as court or service providers' offices. This card summarizes important rights in court and includes tips to empower youth to speak up in court. The tips were based off youth advocates' own experiences in court.
The list of Recommendations for Change are designed to help youth attend and participate more easily in their court hearings.