Meet Leadership Prize Winner, Dorothy Roberts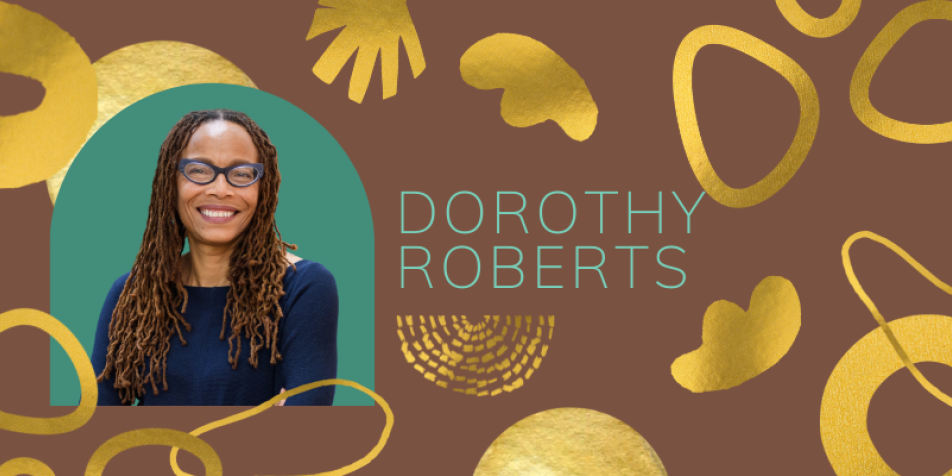 From reproductive health and bioethics to the child welfare system and youth justice, Professor Dorothy Roberts has been a transformative leader on the issues impacting the lives of Black and Brown youth and, notably, Black women.
Dorothy Roberts is the George A. Weiss University Professor of Law & Sociology at the University of Pennsylvania, with joint appointments in the Departments of Africana Studies and Sociology and the Law School, where she is the inaugural Raymond Pace and Sadie Tanner Mossell Alexander Professor of Civil Rights. She is also the founding director of the Penn Program on Race, Science, and Society.
An internationally recognized scholar and human rights activist, Professor Roberts has authored several books, lectured extensively on race, gender, and class inequities in U.S. institutions, and has been a leader in transforming thinking on reproductive freedom, child welfare, and bioethics.
Her book Shattered Bonds: The Color of Child Welfare (Basic Books, 2002) has been central to Juvenile Law Center's work on the child welfare system and youth in foster care. Given its history and design, the child welfare system — or the family policing and surveillance system as Professor Roberts writes it is more accurately titled — is structured to harm children by interfering with their health, education, and social relationships. Foster care drives many children into juvenile detention and prison. As institutions deeply rooted in racism, these systems continue to negatively impact the lives of Black and Brown youth every day. And many Black youths know about and live in fear of how these systems could change their life forever. At a University of Pennsylvania lecture titled, Black Families Matter, Professor Roberts noted:
"In many cities child welfare agency involvement is concentrated in segregated and impoverished Black neighborhoods, so every child residing there, whether they're taken or not, lives with the realistic fear that system agents may come to their home and snatch them away from their parents… Most Black children know about the child welfare system and fear that it can come and interrupt their families' lives. That is not true for most white children in America. I call that the 'racial geography' of child welfare." Twelve percent of Black youth can expect to enter foster care before their 18th birthday, further highlighting racial inequity and poverty as the leading reason for the government removing youth from their families. Professor Roberts' analysis of the child welfare system in Shattered Bonds and her lectures on this system continue to highlight the racialized harms of investigations, removal, and family separations on Black families across the United States.
Professor Roberts' work is more crucial than ever today as she continues to build a framework for safer communities. This April, she published her new book, Torn Apart: How the Child Welfare System Destroys Black Families—and How Abolition Can Build a Safer World (Basic Books 2022). Torn Apart touches on the origins of child welfare, tracing it back to the forced separation of families by enslavement and later after the civil war and the abolition of slavery where Black youths were returned to the harsh conditions of their former enslavers and exploited for their labor by family courts. Additionally, it highlights the past that has not yet passed, drawing attention to how some of the laws that allowed forced family separation and the harsh conditions of slavery youth endured are similar to the laws in effect today and the harms that follow.
But these systems do not have to continue functioning the way they do — they should not have to function at all. Professor Roberts' continued work calls for a new vision of child welfare and safety that no longer relies on removing youth from marginalized communities. Juvenile Law Center is now working towards the vision of Professor Roberts' and others by shifting to embrace an abolition framework, ensuring a future where resources instead can be directed to youth, families, and communities.
Instead, this framework would be grounded in meeting human needs, preventing violence, and caring for youth, families, and communities. In this context, a society where taking away a child would be unimaginable because a better way of caring for each other is possible.
Juvenile Law Center invites you to virtually celebrate Professor Roberts and her work (and other winners Cyntoia Brown Long and Tom Grisso) on Thursday, May 12, 2022 at 7:00pm/ET during the 2022 Leadership Prize. You can register here. Recipients of the Juvenile Law Center Leadership Prize are leading lights whose inspirational careers are beacons for future generations and whose work has substantially improved the lives of youth. Read more about the awardees here.