For many youth "a cell phone is life."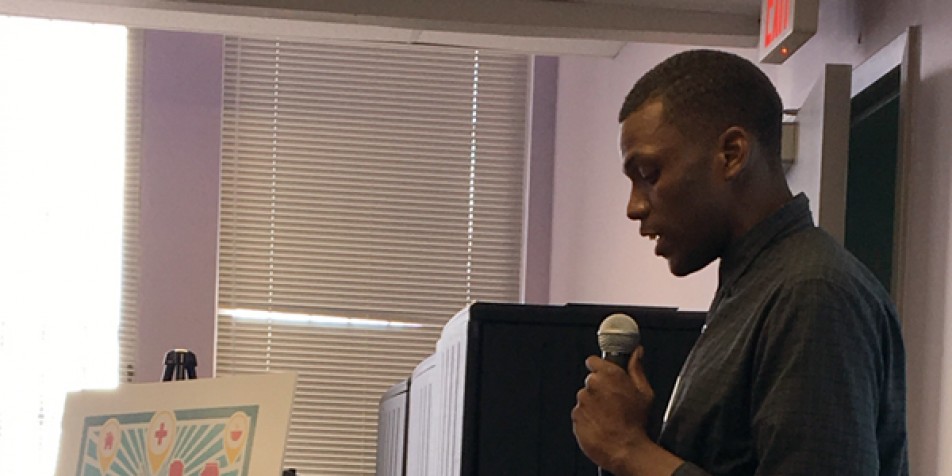 Anthony Simpson, is an employee and advocate of Youth Fostering Change at Juvenile Law Center, current member at the Achieving Independence Center and a former homeless youth.
---
When I was initially informed about the Youth Matters: Philly app my mind went back to the days when I had nothing to my name, no one to turn to and nowhere to go. I thought of all the times this could've been an invaluable tool, for those days when I most needed support, or something to eat, a place to change my clothes, or even just someone to talk to. Now, I have an opportunity to speak during National Foster Care Month, this May, to acknowledge why this tool is so important.
For foster youth just aging out of care and experiencing homeless, it can be tough to find assistance - specifically, when everyone does not have your best interest at heart. When you're out on the street, you're more vulnerable to be taken advantage of just wanting to sleep near any place that just has little heat or furniture. You see, when you've experienced homelessness, you foster a new appreciation for life and basic necessities that many people have never experienced.
The truth is, for most youth experiencing severe cases of housing insecurity, those shoes resting against the nape of their necks are their pillow, the gravel tearing at your torso, as you toss and turn, is your bed. The siren of a passing emergency vehicle is their alarm clock. For the youth spending their nights trying to find somewhere to rest, that is their reality.
In Philadelphia, one out of twenty high schoolers have experienced homelessness. One of the things that makes homelessness especially troubling for our youth is that word "homeless." Whether through popular media or extreme cases we might see on our way to work, for many of us the word homeless may conjure images of ragged clothes and lethargy. For this reason, if a young person isn't in their presentation showing evidence of malnourishment or excessive housing insecurity, then their plight can easily go unnoticed by their peers - and for foster youth, even their various workers.
The stigma attached to being homeless has a massive impact on the prevention and direct treatment of homelessness, regardless the severity of one's situation. No child should bear the responsibility of acquiring housing alone. These days, though, technology is so accessible and essential to the social sphere of young people. We are never truly alone, are we? During my bouts with homelessness the most common possession I had (as did other teens I'd met in shelters or when we were just looking for a permanent home) was the same object many teenagers have in their pockets - a smartphone. A cell phone is life. It's a way to keep in touch with friends we've had to separate from, how we keep track of time for when the days seemed to blend together between cat naps, and for some, memorabilia of a time before finding ourselves without shelter.
So naturally, one solution is to use technology as means to connect and assist young people in need. All that was needed for Youth Matters: Philly was a team of developers and an empathetic and relevant eye, keen to the essential nature and capabilities of most smart phones.
That's where Juvenile Law Center, University of Penn's School of Social Policy and Practice and Hack4Impact come in. Youth Matters: Philly is an app that seeks to integrate the finding and vetting of resources for young people in an accessible and mobile manner. It's been my pleasure to provide assistance, both working with Juvenile Law Center staff to identify resources that vulnerable youth need, and updating or making suggestions to the user interface. This is a valuable and important tool for young people and the adults in their lives who serve and support them. I cannot wait for the cell phone to continue to become a tool, not only for selfies, but for survival.