Policy Victory on Economic Justice for Families of Incarcerated Youth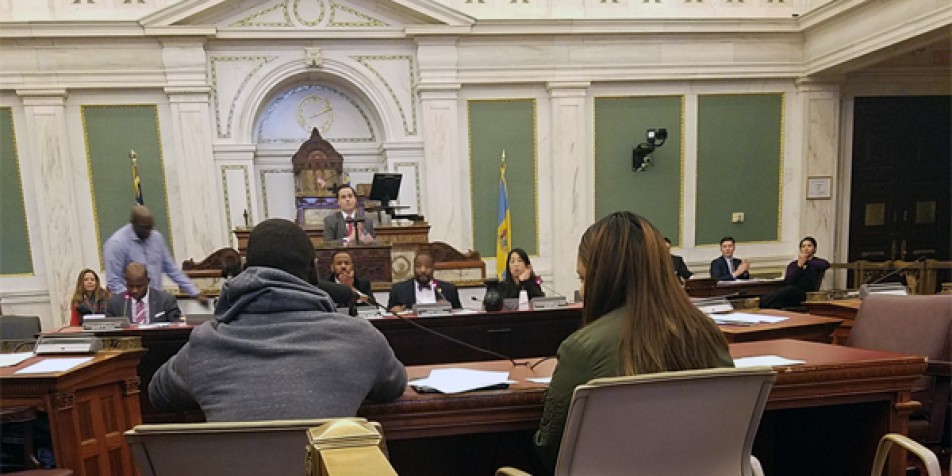 Above: Eugene and Anahi, youth advocates with our Juveniles for Justice program, speaking before City Council on costs and fees
---
Last Friday, our work to raise attention to costs and fees in the juvenile justice system was featured on the front page of the Washington Post, submitted by Eli Hager of The Marshall Project. Read the story, which quotes our Associate Director Jessica Feierman, here. It details the devastation wrought by "child support" fees families face when their child is incarcerated. Billing families for the time their child spends in prison is a national issue – it reaches beyond Philadelphia, which the piece focused on – and many in the public have no idea this is common practice. We were happy to work with the reporter on this important article, which capped months of advocacy on the ground in Philadelphia to address the issue there.
On Friday, just hours before a City Council hearing we helped to coordinate, Philadelphia DHS announced an end to "child support" billing for families of youth in the justice system. This marked a huge victory for Juvenile Law Center's advocacy on behalf of Philadelphia families beset by this practice and for our partners in the work, including the Youth Sentencing and Reentry Project and dedicated students from Temple Law School. We commend DHS for this decision, and were happy to participate in the hearing, convened by Councilman Kenyatta Johnson. Our Associate Director Jessica Feierman opened the hearing, and youth advocates from our Juveniles for Justice program also participated.
NBC Nightly News covered the hearing and helped shed national light on the issue Sunday evening in this compelling report. We are grateful for the national attention, but we know there is much work still to be done to end the harmful burdens of costs, fines and fees on youth and their families. Learn more about what this looks like state by state through our interactive website.
Your contribution can help make victories like these possible. Please consider making a gift today to support Juvenile Law Center on behalf of youth in the juvenile justice and child welfare systems.