New Study Reveals Majority of U.S. States Fail to Protect Juvenile Records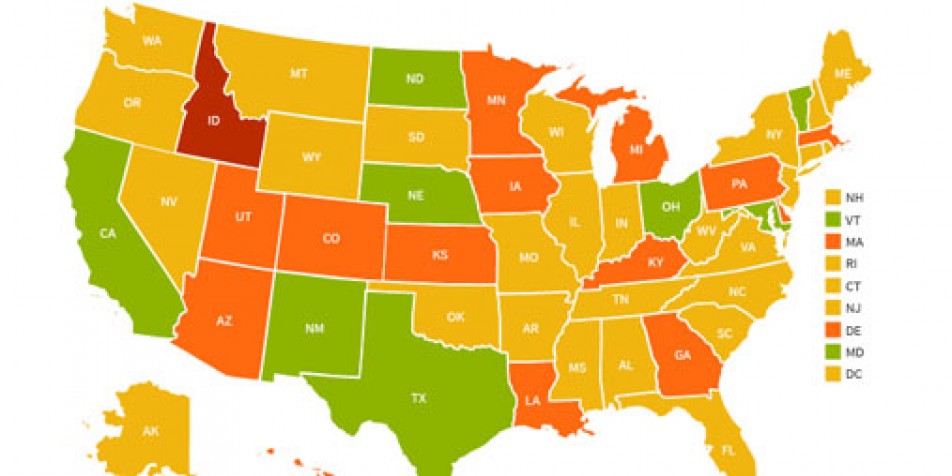 (Philadelphia, PA) – According to a new national scorecard released today by Juvenile Law Center, the vast majority of states are failing to protect highly sensitive information contained in juvenile court records, creating barriers to education, employment and success for American youth. Failed Policies, Forfeited Futures: A Nationwide Scorecard on Juvenile Records, is the first-ever comprehensive evaluation of state policies that govern the confidentiality and expungement of juvenile court and law enforcement records. No state earned the maximum five-star rating, with the national average coming in at three stars out of the possible five stars.
Millions of youth are arrested each year in the United States; 95% of these youth are arrested for non-violent offenses. Arrests and court involvement leads to the creation of juvenile records - all containing details about a child's family, social history, mental health history, substance abuse history, education, and involvement with the law.
While access to this information by law enforcement and youth-serving agencies is necessary to provide treatment and rehabilitative services to youth, many states also allow widespread access to media, employers, government agencies and victims or sell the data to for-profit companies. Once disclosed, this information is difficult, if not impossible, to recall and can permanently stigmatize youth - interfering with their ability to obtain a job, secure housing, pursue higher education, join the military, or access public benefits. To ensure that records do not limit future opportunities, sealing (closed to the public) and expungement (destruction) of juvenile records should be available to all youth.
"The juvenile justice system is intended to rehabilitate youth and prepare them for a productive future, yet our mishandling of juvenile records creates a paper trail that can lead to failure," said Lourdes Rosado, Associate Director of Juvenile Law Center. "These records can follow children and youth into adulthood and often limit opportunities for success."
Many youth and parents are completely unaware that they need to proactively seal or expunge their records until they run into a roadblock as adults. In many states, the process to seal or expunge a juvenile record is also lengthy, costly and may require the services of an attorney.
"There is a misperception that juvenile records are confidential and automatically destroyed when a youth is no longer under court supervision. The reality is that juvenile records are widely accessible long after a young person has become an adult," said Riya Saha Shah, Author of Scorecard Report and Staff Attorney at Juvenile Law Center. "Retention of juvenile records does little to improve public safety but creates significant barriers to success for youth who are trying to move beyond the mistakes they made as a kid. Permanent, open records are like a ball and chain that prevents youth from becoming productive adults, reducing opportunities for employment, eroding the tax base and can lead to increased recidivism due to reduced job prospects."
The Scorecard measured each state's overall treatment of records based on its performance in two policy areas: confidentiality of records during and after juvenile court proceedings, and the availability or ease of sealing or expungement.
New Mexico was the overall top-ranked state, earning 4 out of 5 stars. Ohio was the only state to score in the top 20% for both confidentiality and sealing or expungement. Idaho ranked last, receiving just one star and was joined in the bottom overall 20% by Kansas, Michigan, Delaware, Utah, Minnesota, and Arizona.
In evaluating current policies, Juvenile Law Center established ten core principles for juvenile record protection, including:
Records are not widely available or online
Sealing of records to the general public before they can be expunged
Records are automatically sealed and expunged
Expungement should include physical destruction and electronic deletion
Expungement eligibility begins once case is closed
All offenses are eligible for expungement
Designation of at least one entity to inform youth about expungement availability and process
Youth-friendly forms
Expungement does not require fees
Enforcement of sanctions for violations
In addition, Juvenile Law Center made several recommendations for improvement:
Policymakers are encouraged to review juvenile records laws and protections;
States and municipalities are encouraged to enact provisions to remove or limit barriers to obtaining education, employment, housing, and other benefits;
Attorneys and court personnel should advise youth about consequences of a record and inform them about the availability of sealing or expungement; and
All stakeholders should work together to create youth-friendly materials to help youth navigate the expungement process.
"A youthful mistake should remain just that – a youthful mistake. It shouldn't follow a person around for the rest of their lives, stopping them from finding a job and pushing them back into crime. I introduced The REDEEM Act with U.S. Senator Rand Paul, R-KY, because I believe that allowing young, non-violent offenders to seal or expunge their criminal records will help them become productive members of society and break the cycles of crime and poverty," says U.S. Senator Cory Booker, D-N.J. "Juvenile Law Center's Scorecard is a valuable new tool that will help guide lawmakers and practitioners as they seek to restore justice to our juvenile justice system."
About the Report
To determine each state's performance, Juvenile Law Center conducted a comprehensive review of state statutes, court rules, and case law of 15 key indicators concerning the expungement, sealing and confidentiality of juvenile records by state and local jurisdictions in all 50 states and the District of Columbia. The final composite score for each state was based on a maximum of 100 points that could be awarded in the combined 15 policy areas. For a complete state-by-state analysis and to see how each policy area was scored, visit www.jlc.org/juvenilerecords.
In conjunction with the release of the Scorecard, Juvenile Law Center released Juvenile Records: A National Review of State Laws on Confidentiality, Sealing, and Expungement, an in-depth analysis of state laws for policymakers, practitioners and stakeholders.
The John D. and Catherine T. MacArthur Foundation supported the development of this report through a grant to Public Interest Projects and other organizations committed to improving outcomes for kids and communities.
###
Juvenile Law Center is the oldest public interest law firm for children in the United States. Juvenile Law Center uses an array of legal strategies and policy advocacy to promote fairness, prevent harm, ensure access to appropriate services, and create opportunities for success for youth who come into contact with the child welfare and justice systems.