Honoring the 2017 Juvenile Law Center Leadership Prize Winners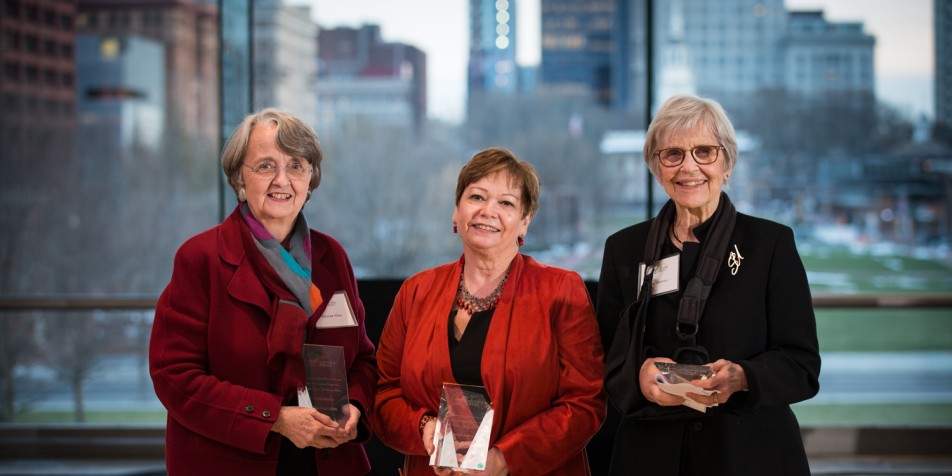 Last night at the National Constitution Center in Philadelphia, Juvenile Law Center was honored to present three extraordinary individuals with our 2017 Leadership Prizes. These are awarded to outstanding advocates working to advance the rights and well-being of youth in the child welfare and juvenile justice systems. Recipients of this prize are leading lights in the field whose inspirational careers have served as beacons for the next generation of advocates, and whose work has substantially improved the lives of America's most vulnerable children.
Through our internationally recognized work, we have blazed trails in the field of contemporary children's law. We are committed as an organization to building and uplifting that field. This prize, which we will award annually, is a key part of that vision.
Please read more about our prize winners – MaryLee Allen (Child Welfare Leadership Prize), Gladys Carrion (Juvenile Justice Leadership Prize), and Lois Whitman (Special Prize for Global Advocacy) – here.
We were delighted to have WURD's Solomon Jones as our event emcee along with our supporters, board of directors, staff and youth advocates. We offer our deepest congratulations to these phenomenal women and we are grateful for their work.
We look forward to continuing to celebrate the growing field of children's rights advocacy and continuing to fight day in and day out for youth in the justice and child welfare systems.
Thank you for supporting Juvenile Law Center!