Freedom Constellations: Philadelphia Transforms Public Spaces into Dreams of Freedom and Thriving for Philly Youth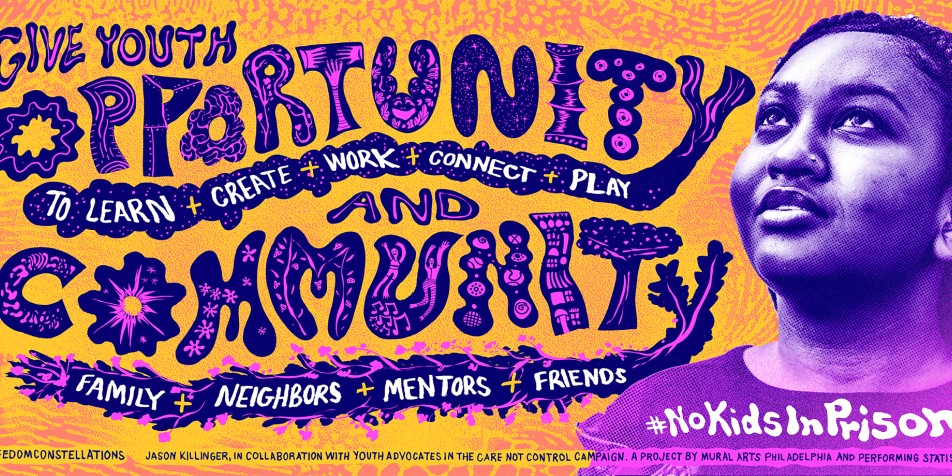 Philadelphia, PA - May 18, 2023 - Mural Arts Philadelphia and Performing Statistics, in collaboration with Juvenile Law Center, Care, Not Control, and the Youth Art and Self Empowerment Project, are thrilled to announce the launch of Freedom Constellations, a groundbreaking project that combines monumental art installations, augmented reality animations, and immersive exhibitions to envision a future where Philadelphia's youth are free, safe, and thriving.
To kick off the project, the #NoKidsInPrison exhibition will have an opening celebration on May 20, 2023 at Cherry Street Pier. Open till June 11, 2023, the exhibition will offer an immersive journey through the history and impact of youth incarceration. The exhibition, organized by Performing Statistics, combines virtual reality, interactive art installations, and eight years of art created in collaboration with youth leaders nationwide. The exhibit also features a range of public programs, including a Time for Art event on May 27th, a First Friday event on June 3rd, and a Closing Celebration on June 11th.
At the heart of Freedom Constellations is a central installation featuring a portrait of youth leaders that comes alive through augmented reality with the use of an observer's smartphone.
"Freedom Constellations boldly merges monumental art with cutting-edge technology to create a captivating vision of a future where Philadelphia's youth thrive in freedom and safety," said Jane Golden, Executive Director of Mural Arts Philadelphia. "Through augmented reality animations and immersive exhibitions, this groundbreaking project amplifies the voices of communities, inspiring positive change and igniting important conversations."
Throughout the city, a constellation of massive banners, billboards, temporary murals, and immersive exhibitions showcases the dreams and aspirations of the youth leaders. Over 50 talented young individuals from various organizations, including Juvenile Law Center, YASP, Care, Not Control, and Mural Arts' Restorative Justice Guild program, contributed their vision for a just, whole, and safe future. The project aims to inspire and guide the community toward a future where all children are free, healed, and thriving.
"Being a part of this project helped me express myself," said Anahi Figueroa-Martinez, Youth Advocacy Program Fellow at Juvenile Law Center. "I didn't think I could do that with art. It was fun being able to do different types of art work and work with many different artists. I enjoyed watching my peers work on their projects and me gaining ideas from them too."
The augmented reality experience is accessible at multiple locations, including Eastern State Penitentiary and Cherry Street Pier. Visitors can use their phones to activate animations that give life to the dreams and poetry created by these exceptional young leaders.
In addition to the augmented reality aspect, the project features thought-provoking billboards across the city, each presenting a theme identified by youth leaders as essential for a future where all youth are safe, free, and healed. These transformative billboards use advertising space to visualize a more liberated future, encouraging passersby to engage with the artwork and contemplate the potential for change.
Buildings throughout Philadelphia have also been transformed into canvases for the dreams of youth. Collaborative designs have been printed on large banners and installed at various locations across the city. Partners such as The Village of Arts and Humanities and PhillyCam have generously provided spaces to showcase these visionary artworks, amplifying the voices of the young leaders and inspiring others to join the movement.
Freedom Constellations will also feature a SEPTA bus adorned with powerful words and portraits of youth leaders to further engage the community. This captivating mobile artwork showcases the dreams and aspirations of Philadelphia's young minds, inviting everyone to step into the beautiful future they envision.
Building the future that Freedom Constellations imagines will require a deeply collective effort and the project showcases a powerful model of connecting youth leaders, artists, advocacy, support organizations and many community partners to support youth in their vision. Over the course of a year and a half, co-curators Mark Strandquist and Kah Yangni held workshops with more than 50 youth leaders for the project. Youth collaborators used poetry, photography and design workshops to imagine a more just and free future. Artists from across the country then worked with these youth leaders to take all of their powerful content and transform it into the series of billboards, posters, ad campaigns, and art exhibits that have spread out across the city. Collaborating artists include; Amir Khadar, KillJoy, Mz. Icar, Katie Kaplan, Jason Killinger, Jess Sabogal, Ashley Lukashevsky, Hank Willis Thomas, Nazeer Sabree, and Kah Yangni. Funding for the project comes from Art for Justice Fund, a sponsored project of Rockefeller Philanthropy Advisors, the City of Philadelphia, Independence Public Media Foundation, Kresge Foundation, Spring Point Partners, and Public Welfare Foundation.
Learn more about the project at https://www.muralarts.org/artworks/freedomconstellations/.
About Mural Arts Philadelphia
Mural Arts Philadelphia is the nation's largest public art program, dedicated to the belief that art ignites change. For over 35 years, Mural Arts have united artists and communities through a collaborative and equitable process, creating over 4,000 artworks that have transformed public spaces and individual lives. Mural Arts aims to empower people, stimulate dialogue, and build bridges to mutual understanding through projects that attract artists from Philadelphia and around the world and programs that focus on youth education, restorative justice, mental health and wellness, and public arts preservation. Popular mural tours offer a firsthand glimpse into the inspiring stories behind Mural Arts' iconic and unparalleled collection, earning Philadelphia worldwide recognition as the "Mural Capital of the World." For more information, call 215-685-0750 or visit muralarts.org. Follow us on social media: @muralarts on Twitter and Instagram, MuralArtsPhiladelphia on Facebook, and phillymuralarts on YouTube.
About Performing Statistics
Performing Statistics is a cultural organizing project that works with youth leaders nationwide to use art to model, imagine and advocate for a world where all youth are free.
From monumental interactive public art, to immersive installations, to billboards and bus campaigns, their deeply collaborative projects have become megaphones for youth organizers to share their dreams and demands with massive and strategic audiences.
About Juvenile Law Center
Juvenile Law Center fights for rights, dignity, equity, and opportunity for youth. We work to reduce the harm of the child welfare and justice systems, limit their reach, and ultimately abolish them so all young people can thrive. Founded in 1975, Juvenile Law Center was the first nonprofit, public interest law firm for children in the country. As an advocacy organization we now use multiple approaches to accomplish our mission: legal advocacy, policy advocacy. youth-led advocacy, and strategic communications. We strive to ensure that laws, policies, and practices affecting youth advance racial and economic equity and are consistent with children's unique developmental characteristics and human dignity. For more information about Juvenile Law Center's work, visit www.JLC.org.
About Care, Not Control
Care, Not Control is a coalition led by the young people most impacted by the criminal legal system and youth advocates from Juvenile Law Center, The Village of Arts and Humanities, Youth Art & Self-Empowerment Project (YASP), and Youth Sentencing & Reentry Project (YSRP). We are working to transform the criminal legal system to end youth incarceration in Pennsylvania. You can read our full set of demands here: www.carenotcontrol.com.
About Youth Art and Self-Empowerment Project
The Youth Art & Self-empowerment Project (YASP) is building a youth-led movement to end the practice of trying and incarcerating young people as adults and create a world without youth incarceration. Through our work in the Philadelphia jails, YASP provides space for incarcerated young people to express themselves creatively and to develop as leaders both within and beyond the prison walls. Young people who have been through the adult court system are at the forefront of YASP, leading the movement to keep young people out of adult prisons and to create new possibilities for youth around the city.
About the Delaware River Waterfront Corporation
DRWC is a 501(c)(3) created in January 2009, exclusively for the benefit of the City of Philadelphia and its citizens. The fundamental purpose of DRWC is to design, develop, program and maintain public amenities such as permanent and seasonal parks, trails, and streetscape improvements to transform the waterfront into a vibrant destination for recreational, cultural, and commercial activities for the residents and visitors of Philadelphia as is consistent with the goals of the Master Plan for the Central Delaware. Daily programming throughout the entire year is changing the way Philadelphians see and converse about the waterfront, and is helping to create spaces and communities that connect residents and visitors to the waterfront.