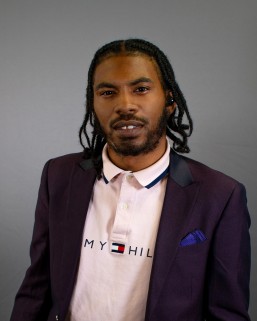 Marcus Jarvis is the Outreach and Communications Associate, Debt Free Justice Campaign for Juvenile Law Center, and an alumnus of their Youth Advocacy Program. He was taken into the child welfare system as a baby and had his first juvenile justice system involvement at age 15. At age 19, he joined Juveniles for Justice to share his experiences and further his advocacy work. In J4J, he worked on many projects, including a video and card on the process for getting a juvenile record expungement in Philadelphia as well as other youth guides to navigate the juvenile justice system.
Marcus has spoken before a range of audiences on juvenile justice system reform, from lawmakers to social workers to educators. He has published pieces with policy recommendations and engaged in community events to build public awareness about the urgency of a more just system for youth justice. In 2019, he received a Media Justice Fellowship with the People's Paper Co-op. He has also served as a keynote speaker for an event hosted by the Youth Sentencing & Re-Entry Project in New York City.
He has done national outreach to youth and families on the harm and impact of juvenile fees and fines. He is a empathetic listener and is able to connect with communities deeply, turning their stories of injustice into real change at the national, state and local level. He is a proud father of four children who spends his free time with family. He enjoys producing and recording music and videos in his spare time. 
Photo Credit - B.C.