Take Action Now: Support Higher Ed Success for Youth in Foster Care, Experiencing Homelessness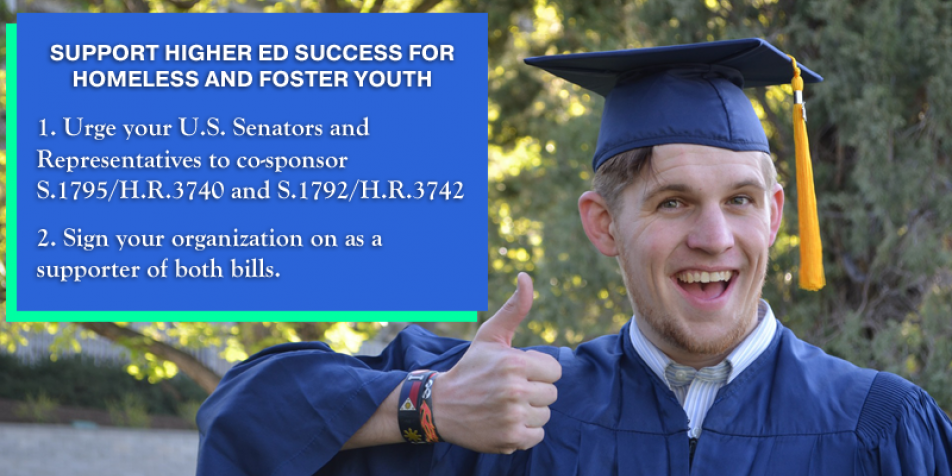 Yesterday, Congress introduced two bills to help youth in foster care and youth who are experiencing homelessness apply for and attend college, receive financial aid, access other important support while in college, and successfully graduate.
Youth experiencing homelessness and youth from foster care face unique barriers to accessing and graduating from college. Lack of family and supports - coupled with histories of neglect, abuse, trauma, mobility, and deep poverty - create roadblocks to their path to and through post-secondary education. Yet, higher education is their best opportunity for economic independence and healthier lives. You can make a difference in these young people's lives by supporting these two new bills.
TAKE ACTION NOW!
Individuals: Urge your U.S. Senators and U.S. Representatives to sign on as co-sponsors of both bills. It's easy - just follow these steps:
Download these two sample letters: one for your U.S. Senators, and one for your U.S. Representatives.

Personalize the letters with local or state facts, and add your own perspectives and experiences.
Send the appropriate letter to your U.S. Senators and U.S. Representatives.
Organizations: If you represent a local, state, or national organization, sign your organization on as a supporter of the bills by filling out this form.
WHAT WILL THESE NEW BILLS DO TO HELP YOUTH IN FOSTER CARE AND HOMELESS YOUTH SUCCEED IN COLLEGE?
The Higher Education Access and Success for Homeless and Foster Youth Act (HEASHFY): S.1795/H.R. 3740, Senators Patty Murray (D-WA) and Rob Portman (R-OH), and Representatives Katherine Clark (D-MA) and Don Young (R-AK)
Streamlines the application and verification process for financial aid for homeless unaccompanied youth

Requires colleges and universities designate to single points of contact to assist homeless and foster youth to access and complete higher education and connect them with resources
Requires colleges and universities develop a plan to assist homeless and foster youth to access housing resources during and between academic terms
Improves support and coordination in college access programs
Download a summary of this bill >>
The Fostering Success in Higher Education Act of 2017 (FSHEA): S. 1792/H.R. 3742, Senator Al Franken (D-MN), and Representatives Danny K. Davis (D-IL) and Raja Krishnamoorthi (D-IL)
Establishes or expands transitions between K-12 and higher education for foster and homeless youth, including summer bridge programs, through statewide initiatives
Develops "institutions of excellence" committed to serving foster and homeless youth from entrance to completion via robust support services and by covering the remaining cost of attendance beyond federal and state grants