Juvenile Law Center Appoints Five New Members to Board of Directors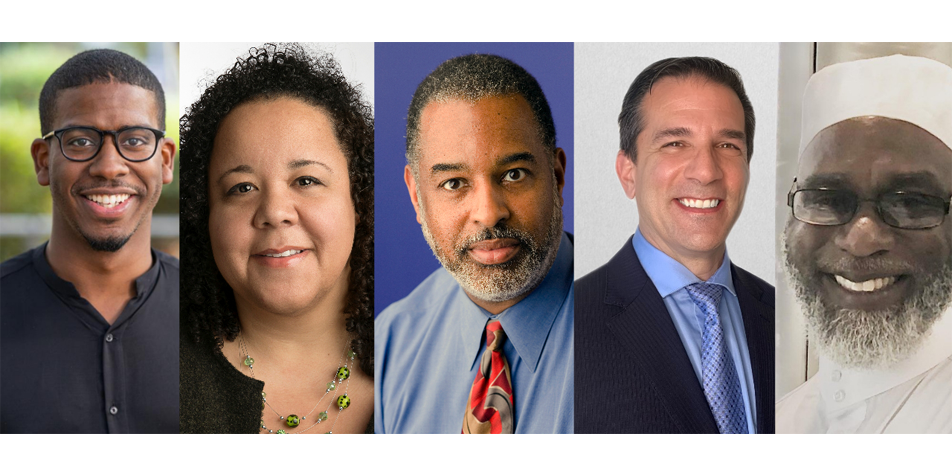 National children's rights advocacy organization appoints Sixto Cancel, Sacha M. Coupet, Judge Andre Davis (retired), Matt DeAngelo, and Abd'Allah Lateef
Philadelphia, PA (September 9, 2021): Juvenile Law Center, the nation's first nonprofit public interest law firm for children's rights, is announcing the appointment of five new members to its Board of Directors. These individuals – Sixto Cancel, Sacha M. Coupet, Judge Andre Davis (retired), Matt DeAngelo, and Abd'Allah Lateef – will join the governing body of the national organization, which is based in Philadelphia.
Sixto Cancel grew up in – and aged out of – the child welfare system. His personal lived experience has powered a passion to transform the child welfare system so that every person has the conditions to Heal, Develop, and Thrive. Sixto is the founder of Think of Us and has served as CEO since its incorporation in 2017. He and the team at Think of Us are committed to total transformation of child welfare in the United States.
Sacha M. Coupet is the Morris I. Leibman Professor of Law and Associate Dean of Mission Innovation at Loyola University Chicago School of Law where she has served on the faculty since 2004. Her research, which focuses on policy and practice issues in child and family well-being, has been published in several noteworthy national law journals and she presents nationally on issues related to child welfare, family law, children's rights, LGBTQ youth and diversity & inclusion in law and legal practice.  Prof. Coupet is the co-editor of Children, Sexuality and the Law (NYU Press, 2015), a groundbreaking book that contributes greatly to the dialogue about children's agency.
"I am deeply honored to be invited to take part in the ongoing efforts lead by Juvenile Law Center to create hope-filled futures for the most vulnerable among us, said Coupet. "Juvenile Law Center has always been a special place to me and I am thrilled to be working alongside others who share my passion for the well-being of all youth."
Matt DeAngelo is the Deputy Chief Investment Officer at Drexel University in Philadelphia, where he oversees $1 billion in investment assets for the University's endowment, The Academy of Natural Sciences of Drexel University's endowment, and the Academy's defined benefit plan asset portfolio. Prior to joining Drexel, Matt was an investment analyst for ING Direct's $51 billion investment portfolio, monitoring valuations and credit risk and helping navigate the portfolio through the Global Financial Crisis.  Matt developed his analytical skills through prior investment operations experience at The Vanguard Group and Morgan Stanley.
"The work of Juvenile Law Center provides the opportunity for me to support an underserved community while also continuing my journey of personal growth," said DeAngelo. "I am honored to work alongside such an esteemed and passionate group."
During a thirty-year judicial career starting in 1987, Judge Andre Davis (retired) served as an Associate Judge on the District Court of Maryland for Baltimore City; as an Associate Judge on the Circuit Court for Baltimore City; as federal district judge on the U.S. District Court for the District of Maryland; and as a federal appellate judge on the Court of Appeals for the Fourth Circuit. Davis has been active in numerous national and international judicial and legal education and Rule of Law training programs, including the Einstein Institute for Science, Health and the Courts; the MacArthur Foundation Research Network on Law and Neuroscience; and the Federal Judicial Center.
"The work of Juvenile Law Center has for many decades been at the forefront of advances in our understanding of what it takes to help young people develop into healthy and thriving adults," said Davis. "With new knowledge in hand gained from research in brain science, the Center is positioned to elevate and broaden its impact.  I am both pleased and honored to be joining the Board at this critical juncture."
Abd'Allah Lateef is a Senior Strategist and Racial Equity Specialist with the Campaign for Fair Sentencing of Youth. Despite being condemned to life without the possibility of parole at 17 years old - and without hope of being released from prison, Abd'Allah sought to transcend the ordinary to become extraordinary. Abd'Allah studied legal jurisprudence and he worked as a paralegal within the Paraprofessional Law Clinic, Inc.
"As a direct beneficiary of the advocacy efforts of Juvenile Law Center, I am thrilled to join its Board comprised of folks who are absolutely dedicated to supporting an organization that insists on protecting the inherent dignity, value and human and legal rights of young people," said Lateef. "I look forward to working with fellow Board members as well as the amazing staff at Juvenile Law Center to ensure that we continue to export our core values around racial equity, diversity, inclusivity, love and compassion for youth into our world."
"Juvenile Law Center has an exceptional Board of Directors, and we are thrilled to add the experience, expertise and enthusiasm of these new Board members," said Sue Mangold, Juvenile Law Center CEO.
Juvenile Law Center is proud to welcome these distinguished individuals to its Board of Directors.