The box that stops some college applicants in their tracks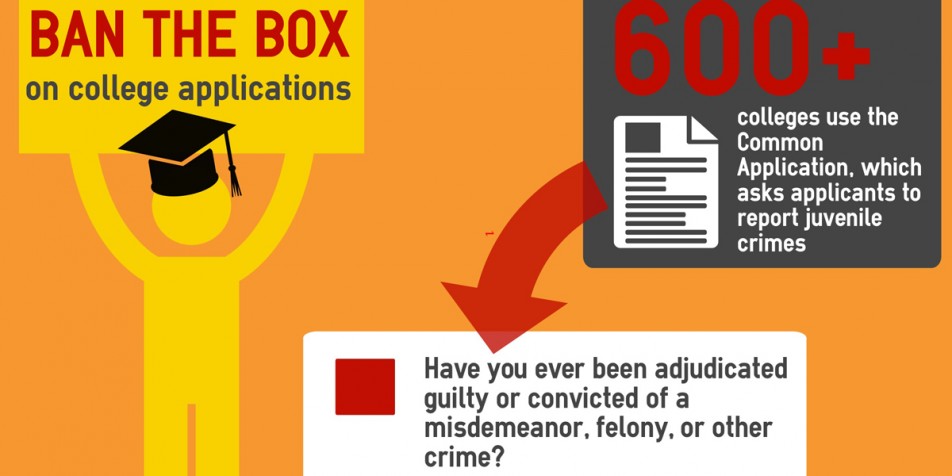 Even though 95% of all youth arrests are for nonviolent offenses, records of the children's court involvement can follow them for their entire lives. Youth who are working toward getting their lives back on track after their involvement with the juvenile justice system are often stalled by the negative consequences of having a record.
Barriers to education, including higher education, severely limit a young person's opportunities to succeed in adulthood. Educational obstacles also disproportionately affect youth of color, who are more likely to face involvement with the juvenile justice system than their white peers. Over 600 colleges and universities use the Common Application, which includes a check box asking applicants about any past juvenile crimes. Although research shows that most schools don't deny admission based on this information, the vast majority of youth with records who see this check box will not complete the college application.
Some colleges, however, use this information to conduct official background checks of students. Two-thirds of colleges and universities collect criminal justice information during the admissions process. Of those, about 20% of colleges have denied admission based on the young person's record and the wrongful assumption that rejecting youth with records will make campuses safer.
Juvenile Law Center supports the call to "ban the box" from college applications so that youth with records can go to college, obtain employment, and contribute to their communities and the economy. Removing the check box asking about past offenses means that more young people will be able to move on from their mistakes and get their lives back on track. Learn more about the collateral damage caused by juvenile records at jlc.org/future-interrupted.