2021 Leadership Prize Celebration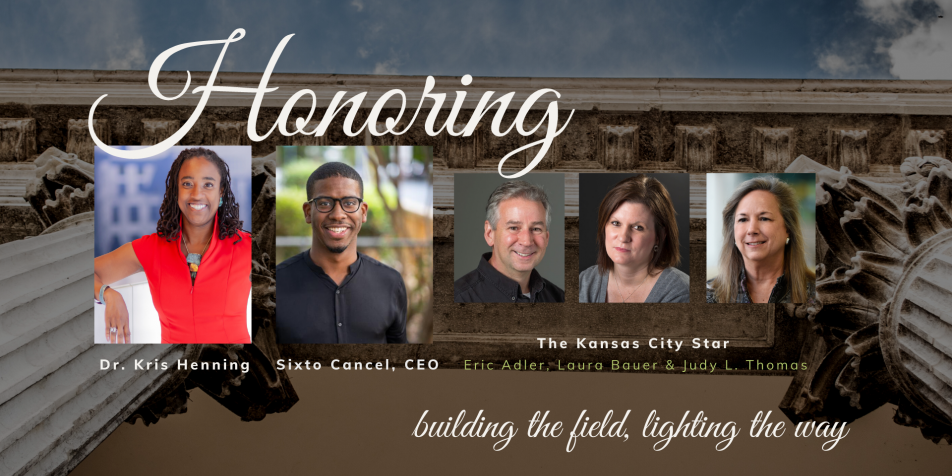 Recipients of the Juvenile Law Center Leadership Prize are leading lights whose inspirational careers are beacons for future generations and whose work has substantially improved the lives of youth. We hope everyone is well and wish we could have been together by now, but this year we'll again meet online on May 11th to celebrate and honor our 2021 Leadership Prize winners (above R to L):
Kristin N. Henning, Blume Professor of Law and Director of the Juvenile Justice Clinic and Initiative, Georgetown Law;

Sixto Cancel, Founder and CEO, Think of Us; and

The Kansas City Star, Publishers of 6-part series, "Throwaway Kids," on foster care systems in the United States written and reported by Eric Adler, Laura Bauer and Judy L. Thomas.
Watch the Event!
Our Program
Help us raise as additional $25,000!
We set a challenge last night to raise an additional $25,000 this week. If you'd like to help, click here or text 2021PRIZE to 44-321.
We also encourage you to follow us on Twitter, Facebook, or Instagram. Or sign up for our emails.
-------------------------------------------------------
Our 2021 Leadership Prize Selection Committee
Damon Hewitt, Chair , Executive VP, Lawyers' Committee for Civil Rights Under Law

Currey Cook, Senior Counsel and Youth in Out-of-Home Care Project Director, Lambda Legal

Susan Jin Davis, Former Chief Sustainability Officer, Comcast Corporation

Cathy Moffa, Youth Advocacy Program Manager, Juvenile Law Center

Anthony Simpson, Youth Advocacy Alumni Fellow, Juvenile Law Center

Shannan Wilber, Youth Policy Director, National Center for Lesbian Rights, 2020 Leadership Prize Winner
Join Us As A Distinguished Sponsor
Help honor, build and sustain the field of child advocacy with Juvenile Law Center for years to come. Your generous support is more important now than ever, as we respond to new challenges and threats to many hard-won reforms for youth. Recognizing and honoring the trailblazers among us is critical to creating and sustaining a better world for our youth. Sponsorship begins at $1,500. Sponsorships of $10,000 or more may be fulfilled across multiple years.
For assistance download this form, use our online form, or contact Rosie McNamara-Jones at (215) 625-0551 x118 or rmcnamara-jones@jlc.org.
Program Book Ad or Tribute To Honor Our 2021 Winners
Place an ad or special message to honor the 2021 winners in our VIRTUAL program book! Use this online form or contact us directly to secure your program space. Deadline for ads is May 7, 2021. Click here to download our Ad Spec sheet for directions for how to create your ad. Juvenile Law Center can also build the ad for you!
About the Leadership Prize
Juvenile Law Center's annual Leadership Prize was first awarded in 2015 to recognize individuals working to reform the child welfare and justice systems. The inaugural recipient, Juvenile Law Center Co-Founder Robert Schwartz, not only brought Juvenile Law Center to national and international prominence over the course of his 40 years of leadership, he also helped develop the nascent field of children's law, inspiring thousands of children's rights advocates working nationwide. Today, Juvenile Law Center is recognized both nationally and internationally for its expertise as a trailblazer in the field of children's rights law.
Recipients of the Leadership Prize are leading lights whose inspirational careers are beacons for future generations and whose work has substantially improved the lives of youth. Awardees have achieved lasting change either through a lifetime of work on behalf of youth, a landmark contribution to the field of children's rights, or exceptional efforts to shine a light on the most important issues affecting youth today. See past winners here.
Nominations for our 2022 Leadership Prize will open in January 2022.