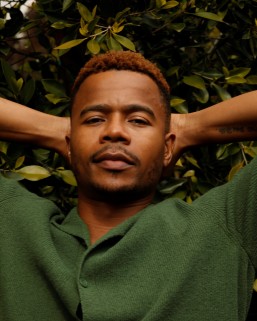 Marque Richardson is a multi-faceted talent known for his contributions to entertainment as an actor, writer and producer. Leveraging his creative expertise, he's also ventured into the world of commercial real estate as an entrepreneur, combining his passions for story telling, property investment and community. Moreover, he is a citizen of the world, who uses his gifts and talents as activism. 
As an accomplished actor, writer, and producer, Marque Richardson has left an indelible mark on the entertainment world. He's graced both the big and small screens with his captivating performances, earning critical acclaim and a dedicated fan base. Marque's creative journey has seen him contribute to groundbreaking projects that challenge norms and elevate storytelling in film and television.
Richardson currently stars on the Hulu / Onyx Collective comedy series Unprisoned opposite Kerry Washington and Delroy Lindo. Created and executive produced by Tracy Mc Millan, the series, inspired by her life, is about a messy but perfectionist relationship therapist and single mom (Washington) whose life is turned right-side up when her dad (Lindo) gets out of prison and moves in with her teenage son. Richardson plays Mal, the caseworker at the group home from which Eddie (Lindo) has been released after 16 years of prison.
Richardson portrayed Reggie Green on Netflix Original Series Dear White People. Based on the film of the same name, the show offers a mirror of post "post-racial" America. When the mirror shattered, with the murder of Jordan Edwards, Richardson and his cast members moved into action, establishing a memorial scholarship fund for a slain teen at the University he wanted to attend.
"We're here." was what Richardson and the cast said to the family. In a sense, that is also what the show says. Set on the campus of predominantly white Ivy League university where racial tensions bubble just below the surface, Dear White People offers both honesty and humor in its presentation of current issues. Richardson's poignant portrayal of Green in a single episode directed by Oscar winner Barry Jenkins was hailed as one of the top episodes on television that year.
In a remarkable pivot, Marque ventured into the realm of commercial real estate with a fresh perspective. Leveraging his deep industry connections and a keen eye for opportunities, he specializes in properties that bridge the gap between entertainment and real estate. Marque understands the unique demands of production companies, studios, and creative professionals, making him a trusted advisor for those seeking tailored real estate solutions in this niche.
Richardson offers the same dynamic presence when he speaks with organizations across the country on topics ranging from social justice to homelessness and his daily commitment of strength in vulnerability as a black male in a time of excessive force.
Recognizing his gift, Richardson's parents moved the family from San Diego to Los Angeles so the prodigal young talent could begin a career in acting. While pursuing a successful career, Richardson attended USC on a full scholarship from the Bill and Melinda Gates Foundation graduating with degrees in Public Policy, Planning, Management and Business.
Marque Richardson is a true trailblazer, seamlessly navigating the dynamic worlds of entertainment and real estate. His commitment to community service, excellence, creative flair, and business savvy make him a dynamic force to be reckoned with in both industries.