Recommendations to Improve Correctional and Reentry Education for Young People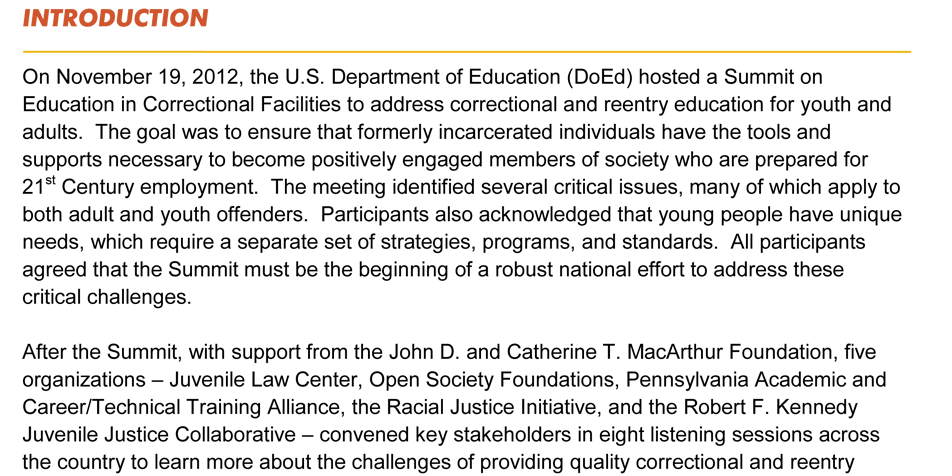 On November 19, 2012, the U.S. Department of Education (DoEd) hosted a Summit on Education in Correctional Facilities to address correctional and reentry education for youth and adults. The goal was to ensure that formerly incarcerated individuals have the tools and supports necessary to become positively engaged members of society who are prepared for 21st Century employment. The meeting identified several critical issues, many of which apply to both adult and youth offenders. Participants also acknowledged that young people have unique needs, which require a separate set of strategies, programs, and standards. All participants agreed that the Summit must be the beginning of a robust national effort to address these critical challenges.
After the Summit, with support from the John D. and Catherine T. MacArthur Foundation, five organizations—Juvenile Law Center, Open Society Foundations, Pennsylvania Academic/Career Technical Training Alliance, the Racial Justice Initiative, and the Robert F. Kennedy Juvenile Justice Collaborative—convened key stakeholders in eight listening sessions across the country to learn more about the challenges of providing quality correctional and reentry education and career/technical training for young people.
All together, these listening sessions convened over 100 community leaders and experts from the education, justice, and youth advocacy fields, at meetings held in Los Angeles, Boston, Atlanta, Washington, DC, and Chicago, as well as at the Correctional Education Association Director's Forum, and a conference call for participants who could not attend in person. These discussions provided rich information about frontline barriers to correctional and reentry education, promising practices, and supportive policies.
The policy recommendations presented here reflect the insights, observations, and knowledge gained from these critical conversations.