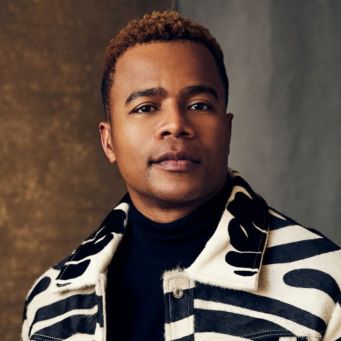 Marque Richardson, Actor/Activist
Marque Richardson is a high energy, multi-faceted actor, writer, and producer. Moreover, he is a citizen of the world, who uses his art as activism. Richardson answered the call of TV and film at an early age. A stronger call guides his vision as both a person and a performer – the call of community and service.
Richardson currently stars on the Hulu / Onyx Collective comedy series Unprisoned opposite Kerry Washington and Delroy Lindo. Created and executive produced by Tracy Mc Millan, the series, inspired by her life, is about a messy but perfectionist relationship therapist and single mom (Washington) whose life is turned right-side up when her dad (Lindo) gets out of prison and moves in with her teenage son. Richardson plays Mal, the caseworker at the group home from which Eddie (Lindo) has been released after 16 years of prison.
Richardson recently portrayed Reggie Green on Netflix Original Series Dear White People. Based on the film of the same name, the show offers a mirror of post "post-racial" America. When the mirror shattered, with the murder of Jordan Edwards, Richardson and his cast members moved into action, establishing a memorial scholarship fund for a slain teen at the University he wanted to attend. Edwards could have easily been one of the characters on the show or one of the actors in real life.
"We're here." was what Richardson and the cast said to the family. In a sense, that is also what the show says. Set on the campus of predominantly white Ivy League university where racial tensions bubble just below the surface, Dear White People offers both honesty and humor in its presentation of current issues. Richardson's poignant portrayal of Green in a single episode directed by Oscar winner Barry Jenkins was hailed as one of the top episodes on television that year.
Richardson offers the same dynamic presence when he speaks on topics ranging from social justice to homelessness and his daily commitment to being a strong and vulnerable black male in a time of excessive force.
Recognizing his gift, Richardson's parents moved the family from San Diego to Los Angeles so the prodigal young talent could begin a career in acting. While pursuing a successful career, Richardson attended USC on a full scholarship from the Bill and Melinda Gates Foundation graduating with degrees in business, public policy, planning, and management.
Some of his numerous television credits include recurring roles on Nat Geo's Genius: Aretha, HBO's The Newsroom, True Blood and previously filmed guest star roles on Brooklyn Nine-Nine, Anger Management, Community and was a series regular in the Amazon Studio Original, Browsers.
Marque appeared in HBO's Emmy-nominated adaptation of the Tony-winning Robert Schenkkan play, All The Way. Directed by Jay Roach and executive produced by Steven Spielberg, which stars Bryan Cranston (President LBJ), Anthony Mackie (Dr. Martin Luther King), Melissa Leo (First Lady Byrd), Frank Langella (Sen. Richard Russell), and Richardson as Civil Rights leader Dr. Bob Moses.
Richardson also appeared in Inheritance, a thriller from director Vaughn Stein starring Lily Collins and one of Netflix's top 10 most watched films at over 11.5 million hours. Richardson can also be seen on the Amazon/TNT drama series Tell Me Your Secrets, as Tom, an honest Louisiana cop who forms a close connection with Emma (Lily Rabe). He also starred in the Netflix YA hit Step Sisters— the sorority comedy from Drumline helmer Charles Stone III, and Straight Out of Compton producer Matt Alvarez.