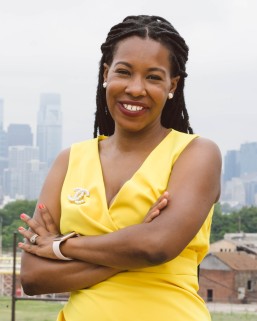 Jasmine E. Sessoms is a civic, philanthropic and political leader in the City of Philadelphia. She is a lifelong Philadelphian with a true passion for The City. Jasmine currently serves as Senior Vice President of Corporate Affairs for Hilco Redevelopment Partners; in this role Jasmine oversees community and government outreach efforts and serves as a key liaison to constituent groups throughout all HRP projects which include Boston, Philadelphia, and Chicago to name a few. She also oversees internal and external communications, media relations, workforce development and diversity and inclusion initiatives. She uses her deep understanding of the community to build trust and foster collaboration between HRP and the residents, groups, and institutions it seeks to work with over the long-term. Early in her tenure at HRP Jasmine worked with the City and the School District of Philadelphia to create the innovative Career Connected Learning Program, that will shape the face of Workforce in Philadelphia for years to come. Jasmine also oversees Hilco Redevelopments Philanthropic efforts, through the Hilco Helps initiatives, which notably during the 2020 Holiday season donated over $1 million of in-kind items to Philadelphians in need. 
Prior to joining Hilco Redevelopment Partners Jasmine served as the Vice President of Government Relations for Community College of Philadelphia serving in the President's Cabinet. During her tenure at The City's College Jasmine was the lead on bringing the Octavius Catto Scholarship to fruition in partnership with the City of Philadelphia that provides first-time full-time students with free Community College.
Prior to joining Community College of Philadelphia, Jasmine served as the Managing Executive Director of The Fund for Philadelphia, where she oversaw $17 million of grants and awards to deliver on the goals of the Mayor of Philadelphia's philanthropic priorities. She served in this role under Mayor Michael A. Nutter, and Mayor James F, Kenney.
 In 2014 Jasmine founded a nonprofit organization She Can Win, whose mission is to train and invest in Women, specifically Women of Color to run for office. To date She Can Win has trained over 900 Women throughout the country. Most recently She Can Win hosted a roundtable discussion in partnership with Vice President Kamala Harris in Philadelphia.
She has been recognized as Philadelphia Business Journal 40 Under 40 Business Leaders, Philadelphia Business Journal's Diversity Leader,  PA City & State 40 Under 40 Political Leaders, KWY's GameChanger, National Organization of Women - Woman of the Year, Google Women to Watch in Business and Philadelphia Style- Most stylist Philadelphian to name a few.
Jasmine graduated from Morgan State University and holds a master's degree in Organizational Development and Leadership from Philadelphia College of Osteopathic Medicine. She also serves on a multitude of boards and commissions: Chairwoman of the Pennsylvania Legislative Black Caucus Foundation, Mayoral Appointee for Philadelphia Works, Philadelphia250, The Mann Music Center,  Schuylkill River Development Corporation, and Board of Trustees Cheyney University.