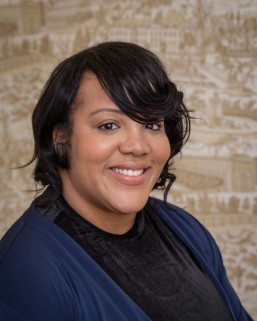 Marcía Hopkins joined Juvenile Law Center in October, 2016, and previously completed a one year graduate-level social work internship with our Youth Advocacy Program in 2014-2015. Marcía facilitates Juvenile Law Center's Youth Advocacy Program: Advocates Transforming Youth Systems, Advocates for Youth Justice, and the Youth Speakers Bureau. She also works closely with our attorneys on various policy-focused projects related to foster youth and transition-aged youth.
Marcía earned her master's degree in social work from Temple University. She graduated with honors from Indiana University of Pennsylvania with a bachelor's degree in sociology. Prior to joining Juvenile Law Center, Marcia interned for Senator Robert Casey's office, as part of the Congressional Coalition on Adoption Institute (CCAI).
She has also held a staff positions at Philadelphia's Valley Youth House, where she worked as a Life Skills Counselor for former foster youth experiencing homelessness, and was a Programs Consultant with the Congressional Coalition on Adoption Institute's Foster Youth Internship Program® and Angels In Adoption Program®.