Marcía Hopkins, MSW
She/Her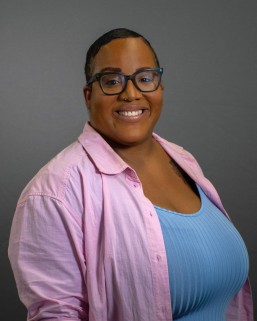 Marcía Hopkins joined Juvenile Law Center as staff in October 2016, having previously completed a one-year graduate-level social work internship with the Youth Advocacy Program from 2014-2015. She is currently the Director of Youth Advocacy. In her role, Marcia collaborates with our internal departments, youth advocates and community partners to lead efforts around youth justice and child welfare reform, calling for the ultimate abolition of the child welfare and juvenile justice systems. She also works to develop and implement internal protocols and external resources that support youth/young adult leadership and expertise in policy advocacy. Marcia has worked extensively with youth advocates in our Youth Advocacy Program to design youth-led reform projects and co-write policy reports. She has provided numerous trainings and presentations that train and teach professionals techniques and tools to co-design programs and develop resources and reforms in collaboration with youth. Her goal is to push for reforms that protect Black and Brown people and those who have been the most marginalized - that treat them with humanity and dignity.
Marcía earned her Master's degree in social work from Temple University. She graduated cum laude from Indiana University of Pennsylvania with a bachelor's degree in sociology. Prior to joining Juvenile Law Center, Marcia interned for Senator Bob Casey's office as part of the Congressional Coalition on Adoption Institute (CCAI). There, she worked to draft legislative reports and research legislation related to federal child welfare, healthcare, and family planning reforms. She also published an article "Redefining Homeless: Improving the Outcomes for Aged-Out Foster Youth" in the 2015 CCAI Recommendation Report to Congress, a report widely read by policy and child welfare experts.
Marcia held a staff positions at Philadelphia's Valley Youth House where she worked as a Life Skills Counselor for youth with foster care experience who were experiencing housing instability and was a Programs Consultant with the Congressional Coalition on Adoption Institute's Foster Youth Internship Program® and Angels In Adoption Program®. She has a background in gun violence prevention and advocacy for families and communities impacted by crime and gun violence in the Philadelphia community. She herself has been impacted by gun violence, losing both her brothers to gun violence in Philadelphia. Their lives, and her family's loss, motivates her to continue her advocacy work. Marcia also has lived experience in the foster care system, as a child, and is a member of the Foster Care Alumni of America Pennsylvania chapter.   
Marcia believes in a fighting for a world that truly affirms and cares for all families and children. She strives to see a world that respects and honors individuality, culture, and race.
Photo Credit - B.C.