Katrina L. Goodjoint, Esq.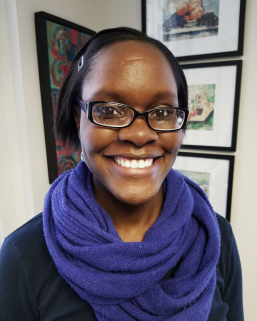 Katrina Goodjoint is a staff attorney at Juvenile Law Center, where her work currently focuses on addressing economic justice and equity in the juvenile justice system through litigation, amicus and policy advocacy efforts. Before joining Juvenile Law Center, Goodjoint was Associate Counsel of Legal Mobilization for the Lawyers' Committee for Civil Rights Under Law in Washington, DC where she expanded the organization's pro bono efforts through volunteer recruitment and substantive legal research.
Prior to working with the Lawyers' Committee, Goodjoint was a fellow with the DC Affordable Law Firm where she litigated custody and divorce matters in DC Superior Court. Goodjoint graduated from Georgetown University Law Center where she focused on criminal defense and racial justice issues. She worked with the DC Public Defender Services' Juvenile Services Program, the juvenile division of the Maryland Office of the Public Defender, and the ABA's Racial Justice Improvement Project. Goodjoint also contributed pro bono hours to the ABA's Death Penalty Moratorium Implementation Project researching wrongful convictions in Texas.
She holds a B.A. in Political Science, with a focus on legal studies, from Seattle University where she graduated summa cum laude. During her time at Seattle University, Goodjoint served as a mentor at a juvenile detention center in Seattle for four years and tutored elementary and middle school students in Seattle Public Schools.