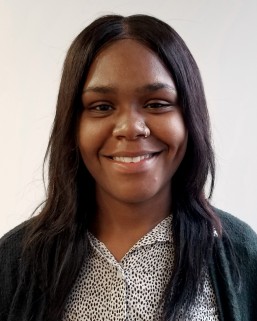 Jasmine Moore is a Youth Advocacy Alumni Fellow and an alumna of Juvenile Law Center's Youth Advocacy Program. Born in West Philly, Moore was in the child welfare system at a very young age. After leaving care at age 17, she was determined to share her experiences and became a youth advocate in Youth Fostering Change (YFC).
She was a youth advocate for two years and worked on numerous projects. One of the projects most important to her was a project YFC developed about age-appropriate housing options for older youth. Jasmine and other advocates in YFC created the Youth Fostering Change Youth Assessment Questionnaire: A Tool for Youth to Provide Input into Child Welfare Placement Decisions, which contains questions youth advocates believe should be considered when older youth are placed outside of their home. The second document, A Path to Understanding: A Youth-Developed Guide to Promote Better Communication and Relationships Between Youth and Their Caseworkers and Caregivers, is designed to help interpret older youth behavior and provide guidance to address those behaviors. This project was very important for Moore because she believes the system often forgets that older youth in care have specific needs and wants that are specific to where they are developmentally at that age and believes that they should be supported to engage in and be provided with mature appropriate activities and responsibilities.
Moore's advocacy work took her to different cities where she met with various city and statewide officials to implement change in the child welfare system. She got the opportunity to go to Washington, D.C. to speak with state officials from Pennsylvania about how traumatic experiences in the child welfare system affects youth and young adults.
She is very passionate about helping her peers recognize and achieve their full potential. She also has a love for fashion and wants to combine her love for advocacy and fashion by opening her own arts studios for artistic youth. Whether it be art, music, painting, poetry, or fashion, Moore is dedicated to making her mark in the world by helping others in any way possible.