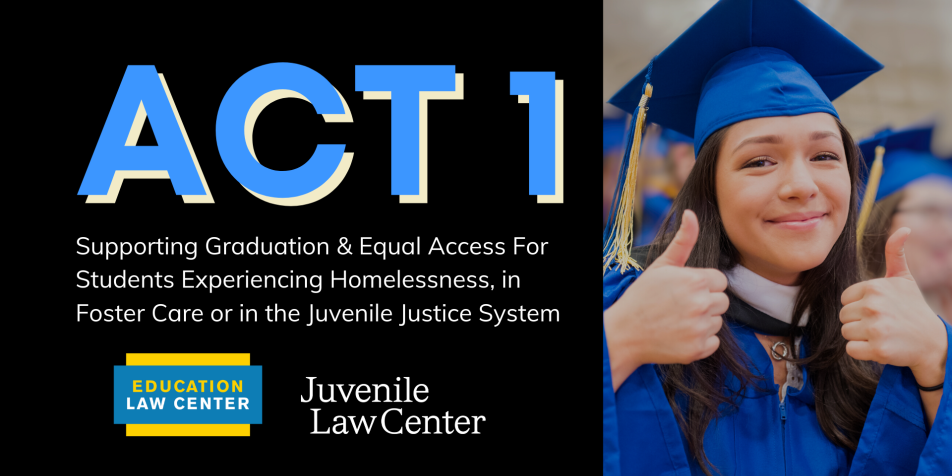 Act 1
On Monday, May 10th, we partnered with Education Law Center to host a webinar educating the community on how to effectively implement the newly passed Act 1.
Act 1 (24 P.S. § 13-1331.1) was enacted January 2022, and seeks to remove educational and graduation barriers for students who experience "education instability" due to homelessness, foster care, involvement in the juvenile justice or court-ordered placements. These students often face barriers to fully participating in school and timely graduation, due lost or unrecognized credits or a student's inability to take a course required by their last school. Act 1 of 2022, which is effective immediately, seeks to address these barriers.
The 'Implementing Act 1' Webinar
This webinar provided an overview of the Act's requirements and discussed:
How Act 1 can help eligible 12th graders now even if they are behind in credits
Identifying eligible students for support under Act 1
Designating a Point of Contact to ensure that eligible students receive the benefit of Act 1
Facilitating prompt transfer of education records
Ensuring students are in the right school and courses
Ensuring that students receive full and partial credit for all previous work
Waiving local graduation requirements
Developing a Graduation Plan
New diploma options.
Resources
You can watch the full webinar along with the presentation here.
You can download the PowerPoint from the webinar below.
Please visit ELC's website as well where you can find a host of advocacy tools.