Life, Death, Life Again by Elizabeth Weill-Greenberg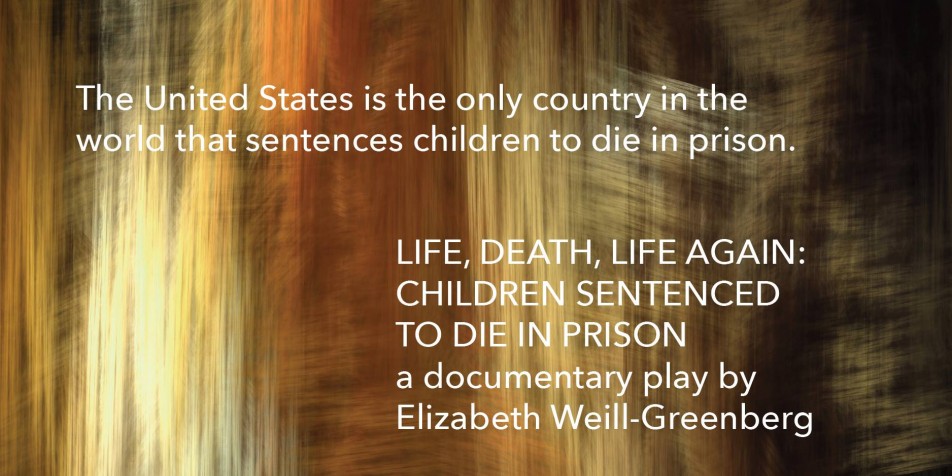 Life, Death, Life Again: Children Sentenced to Die in Prison is a verbatim theater piece by Elizabeth Weill-Greenberg, that shares the stories of people sentenced to die in prison for violent crimes committed as children, and a victim's grandson who chose to lead with forgiveness. Each performance will be followed by a facilitated discussion on the themes discussed in the play - radical forgiveness and how we can create a more humane criminal justice system. The play is produced by coLAB Arts and underwritten with a grant from the New Jersey Council for the Humanities.
Panel Discussion on Radical Forgiveness and Juvenile Sentencing to follow performance.
2 PA Ethics/801 CLE Credits for Attendance: $50 Private Attorneys / $25 Public Service & Public Interest Attorneys
Free for the general public with donation (No CLE credit).

Cast: Turron Kofi Alleyne, June Ballinger, Shavonna Banks, LaChrisha Brown, Brian O'Neill, Dave Seamon
This performance is presented by the Juvenile Law Center, Defender Association of Philadelphia, the Philadelphia Office of the District Attorney, and the Amistad Law Project, with InterAct Theatre Company, and is approved for 2 PA Ethics/801 CLE credits. Thank you to event sponsor E. Rhoda Shaten Charitable Foundation.

Project Sponsors:
Amistad Law Project
Anti-Poverty Network of NJ (APN)
@Bethany Baptist Church of Newark
Campaign for the Fair Sentencing of Youth
Churches Improving Communities
#Cut50
Journey of Hope ... From Violence to Healing
Lutheran Episcopal Advocacy Ministry NJ
The Meta Theatre Company
NeighborCorps Re-Entry Services
New Jersey Institute for Social Justice
NJ Spark
Program in Criminal Justice, Rutgers University-New Brunswick
Reformed Church of Highland Park
The Sentencing Project
UU FaithAction NJ / Unitarian Universalist FaithAction of NJ
Youth First, Inc.
Who Is My Neighbor? Inc. (WIMNI)
Youth Advocate Programs, Inc. Northern-Metro NJ & DE
Zimmerli Art Museum at Rutgers University