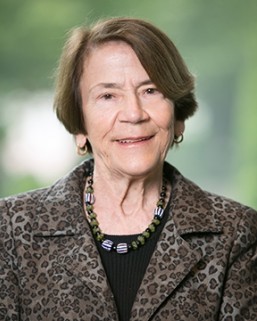 Elizabeth Scott, Esq., is the Harold R. Medina Professor of Law at Columbia University School of Law. Her areas of scholarly interest are family and juvenile law, and she has written extensively on marriage, divorce, child custody, adolescent decision-making, and the legal regulation of juvenile crime. Much of her research is interdisciplinary, applying social science research, developmental theory and behavioral economics to legal policy issues involving children and families.
Scott has worked in collaboration with social scientists on both empirical and theoretical research dealing with family law and juvenile justice issues and has published in both law reviews and in interdisciplinary journals and edited volumes. Together with Laurence Steinberg, a developmental psychologist, she is the author of Rethinking Juvenile Justice (Harvard University Press, 2008), which received the 2010 award for the best social policy book by the Society for Research in Adolescence. Scott is also the co-author of a widely used casebook in Family Law, as well as a co-author of a casebook on Children in the Legal System.
Scott was a member of a John D. and Catherine T. MacArthur Foundation Research Network on Adolescent Development and Juvenile Justice, an interdisciplinary research group that, over a 10-year period, conducted studies of adolescents' competence to stand trial, desistance from criminal activity, and public attitudes toward youthful culpability. She is currently serving on a National Academy of Science committee on juvenile justice policy. She was a founder and co-director of the Center for Children, Family and the Law at the University of Virginia, an interdisciplinary Center that promotes research and informs policy makers and practitioners on issues relating to children and families. Scott also has served on numerous task forces and committees dealing with legal policy toward families.
Juvenile Law Center Board Committee Memberships: Strategic Initiatives (Chair), Nominations and Governance